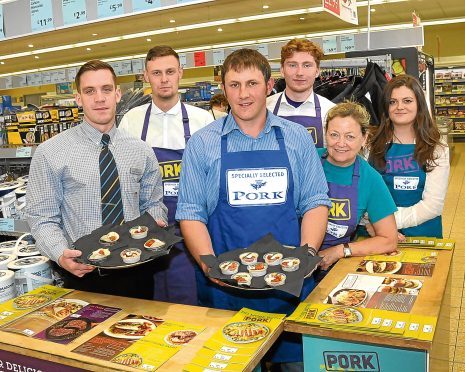 An Aberdeenshire pig farmer ditched his wellies and put on an apron for a visit to a north-east supermarket earlier this week as part of a drive to encourage shoppers to buy and cook more Scottish pork.
Russell Rennie of Mains of Tillyangus in Clatt, Huntly, visited Aldi's Inverurie store to help promote Quality Meat Scotland's (QMS) Do More With Pork campaign.
Mr Mennie, who runs 120 sows at his farm, was joined by a team of Specially Selected Pork ambassadors from QMS and the store's manager Jamie Lucas for a sampling session for shoppers.
The eight-week Do More With Pork campaign, which started at the end of June and is set to reach more than 1.5million consumers, encourages shoppers to use pork to cook delicious mid-week meals.
Mr Rennie said taking part in sampling events offered farmers a valuable opportunity to engage with consumers about Specially Selected Pork – the brand present on meat from Scottish pig farms under quality assurance schemes supported by the Scottish SPCA and run by QMS.
"By giving shoppers a taste of this fantastic product, we hope to remind those who don't regularly buy pork how budget-friendly and versatile it is – perfect for a quick, tasty meal," said Mr Rennie.
"These events are also the perfect opportunity to encourage a new generation to give Specially Selected Pork a try."
QMS marketing executive, Graeme Sharp, hailed the success of the campaign and thanked Aldi for its support.
He said: "This campaign shows there is real potential for lots more of us to be making the most of this easy-to-cook product which is bursting with flavour and is such a great ingredient for a whole range of quick, tasty dishes. ALDI have shown tremendous support of our campaign by hosting sampling of selected dishes in store."
Aldi's group buying director for Scotland, Graham Nicolson, said: "At Aldi, we source the best Scottish meat to make sure our customers can buy quality, locally sourced products year round.
"The Specially Selected Pork approved by the Scottish SPCA is incredibly versatile and we're delighted to support this summer campaign to help bring this delicious product to the forefront of shoppers' minds.
"It is also very satisfying for us to be able to sell Scottish pork from sustainable and responsible suppliers accredited by QMS".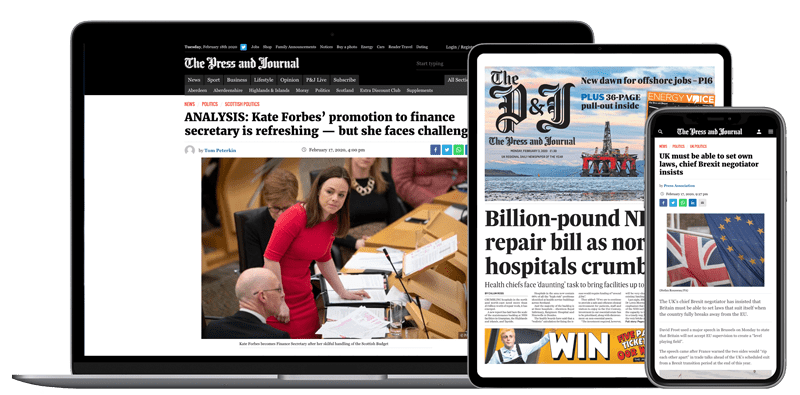 Help support quality local journalism … become a digital subscriber to The Press and Journal
For as little as £5.99 a month you can access all of our content, including Premium articles.
Subscribe