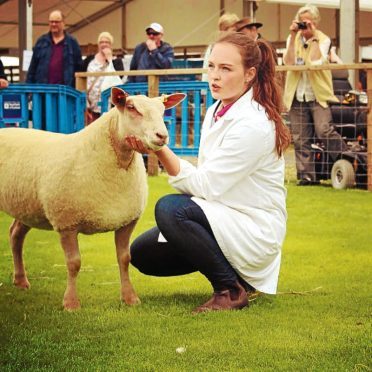 A well-known young farmer from the north-east has hailed a recent trip to Canada as a once in a lifetime opportunity to meet other young farmers from across the world.
Amy Ingram, whose family are well-known sheep breeders at Logie Durno, near Pitcaple, Inverurie, attended the 4H Summit in Ottawa thanks to financial support from the Gregor Award Trust.
Ms Ingram, who is currentlying studying embryology and developmental biology at university, said: "From a very young age the Canadian Rockies and the cowboy lifestyle has always fascinated me.
"This summer I was lucky enough to be selected with two other Scottish Association of Young Farmers' Club (SAYFC) members to represent Scotland in the 4H summit in Ottawa and to visit Canada."
She said the trip not only gave her the chance to meet her peers from across the globe, but also improve her presentation skills. "Myself and the other Scottish delegates presented a 90-minute talk on SAYFC's mental health campaign, Are Ewe Okay, in association with Scottish Association of Mental Health," said Ms Ingram.
She said the trip has inspired her to look into the possibility of going back to Canada next summer to work on a ranch. When she is not studying, Ms Ingram works full-time on the family farm helping take animals around the summer show circuit and preparing for the family's on-farm tup sale.