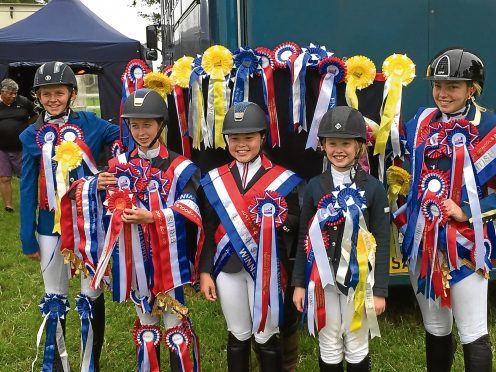 A team of five riders from St Margaret's School for Girls in Aberdeen secured the overall UK schools league title in the Just For Schools British Showjumping National Championships.
The prestigious contest was held at Stoneleigh Park in Warwickshire from August 8-13.
The team comprised: Marcy Bryce, Jessica Fox, Charley Hamilton, Natasha Hamilton and Catherine Ross.
They competed in a number of team classes as well as individual competitions during their trip down south for the championships. Charley Hamilton was Individual National Champion in the 1.1-metre and 90cm sections, while Jessica Fox was Individual National Champion in the 1-metre class.
Anna Tomlinson, head of St Margaret's School for Girls, praised the success of the young riders.
She said: "Our equestrian team has made us truly proud in what has been a challenging year of training and competing for the whole team. In particular, despite Catherine breaking her arm earlier in the year, she continued her lead as team captain, encouraging the other riders and recovered well to take part in this event.
"The girls have demonstrated an ethos of excellent sportsmanship and a dedication towards the competitive equestrian discipline.
"We would like to take this opportunity to mark and celebrate their successes at a national level."
Team captain Catherine Ross said: "Being my last year as captain I would personally like to thank the school for their support, as well as all parents involved, particularly my mum Jenny for taking on the initial role of team manager – we could not have achieved this without them all."