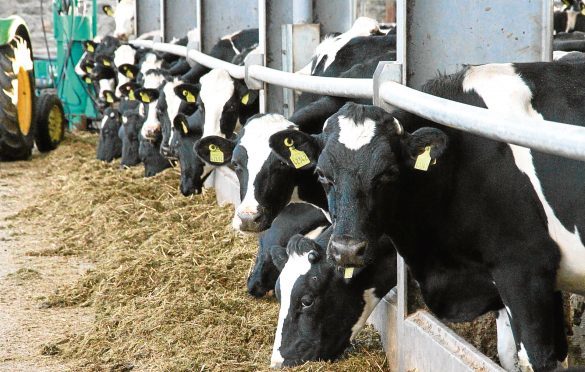 The main milk buyer in the north and north-east has announced plans to increase its standard non-aligned milk price at the start of next month.
Muller, which caused controversy last year when it shut the only milk processing plant in the region, will increase its price by 1p to 30p a litre from October 1.
As a result of the factory closure, farmers in the north and north-east will only see their price increase to 28.25p a litre, as they are forced to pay a 1.75p a litre transport levy to have their milk hauled south for processing.
Muller said the milk price increase was a result of strengthening markets.
In a statement, it said: "Muller is continuing to reflect higher returns from markets for cream and butter and has also highlighted improved collaboration with dairy farmers to maintain supplies of farmgate milk which are more closely aligned to forecasts."
It said it had received "very healthy interest" from dairy farmers interested in signing up to its Muller Direct Futures Contract.
The new contract option, which is available to the company's 700 non-retailer aligned suppliers, gives farmers the option to fix up the price of up to 25% of their milk volume for up to 12 months ahead.
It is designed to help farmers manage their businesses against the backdrop of a volatile market for farmgate milk.
The price will be based on the European Energy Exchange (EEX) market prices for skimmed milk powder and butter calculated through independent FCStone/milkprices.com. Deductions will then be made before the futures base price is set.
These are: 2p a litre for transport; a 5% processor margin for Muller; and a 0.05p a litre fee to cover the cost of hedging for Muller.
Muller said the minimum volume farmers will be allowed to place on the contract is 10,000 litres per month, and to qualify the farmers must have produced a minimum of 4,000 litres in the past 12 months.
Farmers will be given the option to fix forward or take the monthly price of the EEX market. A new fixed price will be offered to farmers at a set time every month.
Muller's agriculture director Rob Hutchinson said farmers who sign up to the new contract will have the opportunity to apply this month for the first 35million litres to be made available under the contract.
Two further tranches of milk under the new contract will be offered to farmers in January and April 2018.
He said: "We are pleased with the response we have had to the steps we are taking to ensure that farmers who supply us have a competitive milk price and an increasing number of tools available to manage their businesses through the markets which we operate in."