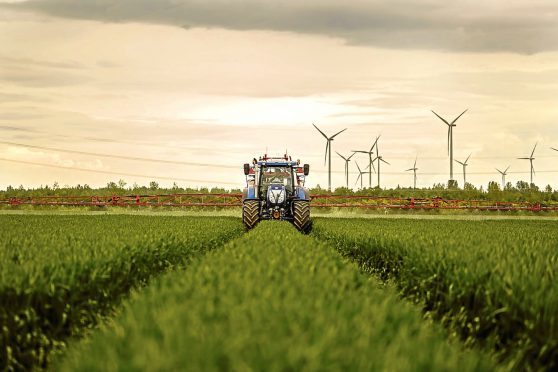 Two global companies are embarking on a three-year research project to develop "smart spraying technology" for farmers.
Agri-chemical giant Bayer and technology firm Bosch plan to develop new technologies to make the use of crop protection products more efficient.
Bosch's research work will focus on highly effective sensor technology, smart analytics and selective spray systems.
Bayer will share the lessors it has learned in the field of Geographical Information Systems (GIS), including the development of algorithms that serve as the basis for agronomical decision-making, integrated pest management, and formulation and application technology.
"We want to venture together with Bosch into new territory, combining different technologies to ensure that herbicides are only applied in areas where they are really necessary," said Bayer's head of digital farming, Tobias Menne.
"Weeds are difficult to identify, especially in the early stages of growth. Using camera sensors, the new technology can determine what is growing in the field and can then adopt a targeted application technique to spray crop protection agents specifically on weeds."
Markus Heyn, of the management board of Bosch, said smart spraying technology would provide sustainable weed control.
He said: "It protects the harvest and is environmentally compatible at the same time."
The concept will be presented to industry at this year's Agritechnica trade farm in Hanover, Germany.
At present efficient weed control involves the widespread use of herbicides even though the weeds are not always distributed consistently across the entire crop.
Bosch's Johannes-Joerg Rueger said smart spraying technology would enable the farmer and his machinery to target herbicide use by distinguishing between crops and weeds.
The new technology will enable accurate identification of the weeds and application of the crop protection agents in a single work step while driving over the field.
To enable this, several cameras will be distributed over the entire working width of the field sprayer and they will continually take pictures of the surface.
Each different weed will then be identified and the optimum method for treating them determined by the smart technology.
The final step involves spraying the necessary quantify and mix of herbicides on the weeds and leaving the weed-free areas untouched.
Bayer's head of agronomy in digital farming, Bjorn Kiepe, said smart spraying was a "quantum leap" in weed control.
He said: "We are combining state-of-the-art weed detection technology with the means of applying different agents on a case-by-case basis and extremely accurately on an area of less than one meter. This will make it even easier for farmers to practice sustainable crop protection."