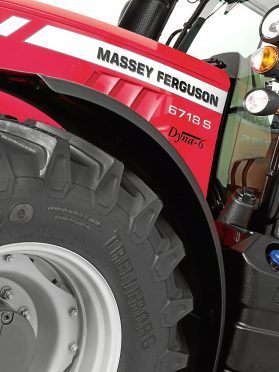 Scottish farm machinery dealer A.M. Phillip Agritech has high hopes its new franchise agreement with Massey Ferguson will boost tractor sales.
The firm was appointed the main Massey Ferguson dealer for Aberdeenshire, Angus and Moray in September last year.
It previously held the franchise for Case IH but the tractor manufacturer served notice to terminate the arrangement in February last year.
Accounts filed with Companies House reveal the firm enjoyed a boost in turnover, against a drop in pre-tax profits for the year ended December 31, 2016.
Turnover at the company was up 8% to £30.68million, from £28.389million in the year before.
This was against a 27% reduction in pre-tax profits to £128,725, from £176,833 previously.
In the accounts, the firm said: "As predicted, maintaining previous levels of sales in the agricultural sector proved to be a challenge in 2016.
"Added to this was dealing with the scaledown of the Case franchise and set- up costs associated with developing a new franchise partnership with Massey Ferguson (MF).
"2016 therefore experienced a few months where tractor sales were low, but following the MF start date in September, sales have started to pick up well."
It said the late delivery of farm subsidy payments had contributed to a decrease in turnover in 2015, however since the start of 2016 there had been a "significant increase back toward more expected levels".
The firm said it was continuing with a programme of cost reviews in recognition of a partial lower in sales over many of the farming sectors.
It said its relatively new Perth branch was progressing favourably and its Gammies groundcare division continued to perform well.
The new agreement with Massey Ferguson covers the company's Forfar, Fraserburgh and Huntly branches.
In the accounts, the firm said it remained in discussion regarding tractor franchise options for its other depots at Conon Bridge, Glenrothes and Perth.
The firm said tractor sales had declined following the termination of the Case contract, but it was confident the Massey franchise would "very quickly bring tractor sales up to and hopefully beyond previous levels".
Accounts for the parent company – A.M. Phillip Limited – which also includes lorry and commercial vehicle subsidiary A.M. Phillip Trucktech, reveal an increase in turnover and a drop in profit.
Turnover at the group increased by almost 7% to £77.293million, from £72.275million previously.
Pre-tax profits decreased by 68% to £218,679, from £694,341 before.
The group said: "During 2016 significant costs were incurred in plant upgrades, portable IT diagnostics, and redecoration at several locations.
"Forecasts for 2018 suggest that group turnover and margins will continue at similar levels as for 2016."