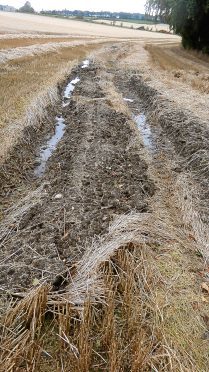 Farmers north of Aberdeen are at their wits' end trying to gather in the last of this year's crop.
Despite the early start to Harvest 2017 in other parts of Scotland, some farmers in the north-east have barely begun harvest due to persistent rain showers in the past few months.
NFU Scotland's regional manager for the north-east, Lorna Paterson, said the majority of combines in the area had been at a standstill for the past two weeks.
"Most barleys were sprayed off about three weeks ago and are becoming very weathered. In the earlier harvested crops, some farmers were suffering malting rejections for skinning before the weather turned really bad and the concern is that skinning will be increasing in the growing crops as the grains expand and contract," she said.
Strichen farmer Alan Grant of Skillymarno Farm said Harvest 2017 had turned "grim".
Mr Grant, who was crowned overall winner in this year's Royal Northern Agricultural Society growing cereals competition, said he still had 20% of his crop to cut.
He said: "The ground conditions are the big problem now; the combines are getting stuck.
"The crop is deteriorating every day and there's lots of wet straw lying. We cannot get winter barley in – that needs to be in now. The clock is ticking."
Turriff farmer Scott McKilligin, of Mahon Farm, said he was fortunate to have finished harvest but he was combining oats for a neighbour earlier this week at 28-29% moisture.
He said: "You could have wrung the water out of the straw. Harvest is a salvage job unless things change very quickly."
He said he had 150 acres of ploughed land lying under water which needed to dry before a seed drill got anywhere near it.
Farm consultant Bryan Chalmers from Allathan Associates said almost half of all the crops the firm managed or consulted on were still in the ground at the start of this week.
He said a break in the weather on Tuesday had allowed some combines to work, and reports suggested wheat was coming in at 27-28% moisture and barley at 23-26% moisture.
Mr Chalmers said: "It think it's quite serious and dire for some guys. We are needing seven to 10 days of nice harvest weather to salvage the situation."
In a message to its members, Ringlink said what was one of the earliest start harvests on record was turning into one of the most difficult.
"The stop start harvest continues making life difficult for all, combines getting stuck, straw not getting baled and dryers working overtime to dry the grain," said the machinery ring.