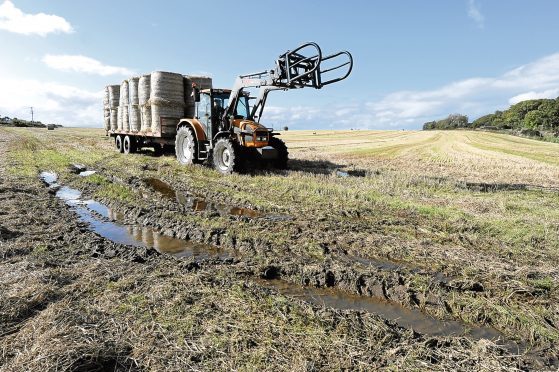 The chief of rural charity RSABI has urged wet-weather stricken farmers and crofters not to suffer in silence.
The charity, which provides assistance to those who work or have worked the land, said it was very concerned about the welfare of farmers facing a devastating harvest due to wet weather in recent months.
Incessant rainfall in some parts of Scotland has resulted in this summer being the fifth wettest on record since records began.
RSABI chief executive Nina Clancy said she was particularly concerned about growers in Aberdeenshire and Moray, and livestock producers on the west coast who had not yet managed to make first-cut silage. I would like to remind people that we are here to help," said Ms Clancy.
"There is no doubt, people are suffering financially and emotionally. RSABI is aware of what is happening and we are here if you need us, even if it is just for a listening ear.
"We provide emotional, practical and financial support to those in the agricultural sector including farming, crofting and growing.
"RSABI's confidential and non-judgmental support is delivered to individuals on a one-to-one basis by experienced staff and volunteers"
She encouraged any farmer or crofter struggling to cope to contact the charity via its free and confidential helpline on 0300 111 4166.
Meanwhile, farmers union NFU Scotland (NFUS) said wet weather was causing heartache for producers across all parts of Scotland from Shetland to Stranraer.
Reported problems include substantial amounts of cereal and potato harvest still to be completed and ground conditions making ploughing and planting of winter crops difficult. There are also significant volumes of straw still to be baled, and many farmers have not yet begun, let alone finished, silage-making.
NFUS said this could lead to a shortage of winter bedding and forage for livestock producers. The union said the problem was exacerbated by the fact many farmers had been forced to bring stock inside earlier than usual due to wet ground conditions.
"Farmers and crofters are well used to dealing with the weather but this year, more than most, the elements are truly testing their resilience," said NFUS president Andrew McCornick.
"Everything is proceeding on a stop/start basis, as they (farmers) dodge between the rain to make the most of any dry spell, and that is only adding to the frustration. The reality is that the weather will add cost for all. Cereal growers face a costly drying bill so that their crops can be safely stored without spoiling.
"Livestock keepers, with some herds already housed, will need more winter feed and bedding while facing difficulties in spreading slurry."
He hailed the Scottish Government's announcement that the deadline for Scottish Upland Sheep Support Scheme applications had been extended as a result of the wet weather, and said the union hoped to secure an extension to the period in which farmers in Nitrate Vulnerable Zones are able to spread muck.
Mr McCornick also reminded growers that Scottish Government will allow farmers to put their green cover into a different field than originally planned, provided they tell their local government office they are planning to do so. He said green cover could be established via broadcasting seed, rather than drilling, in cases where ground conditions were difficult.