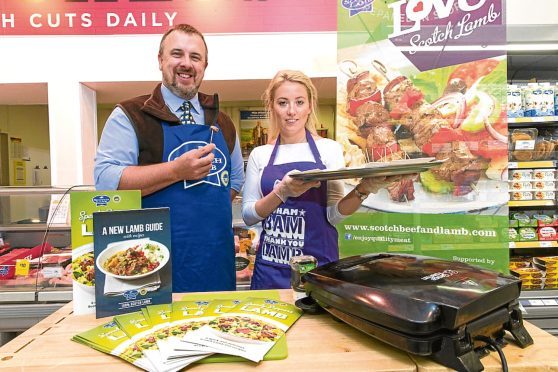 A well-known sheep farmer from the north-east was out at an Aberdeen supermarket encouraging shoppers to put more Scotch Lamb in their shopping basket.
John Fyall, who farms at Sittyton, near Newmachar, visited the city's Morrisons store to dish out samples of Scotch Lamb dishes to shoppers.
"We are incredibly proud of the Scotch Lamb we produce and believe it's an industry worth protecting and growing," said Mr Fyall, who is chairman of the National Sheep Association in Scotland.
"Everyone involved in the industry needs to work together to champion Scotch Lamb, and we're keen to show shoppers how lamb can be used to showcase its true versatility and make it a staple on Scottish shopping lists."
Mr Fyall's sampling session was part of a wider two-month campaign – Wham Bam Lamb – encouraging shoppers to eat more Scotch Lamb.
Organised by red meat promotion body, Quality Meat Scotland (QMS), the campaign has included more than 100 sampling sessions in supermarkets across Scotland.
QMS marketing controller Suzie Carlaw said: "We're taking the opportunity to really inspire Scots about this national treasure of a natural ingredient which our farmers are very proud to produce.
"We have a great partnership with Morrisons, which has welcomed our sampling team to several stores across Scotland to promote our Scotch Lamb products, which are available in store, every day."
Morrisons local solutions manager in Scotland, Angus Bell, said: "We know home-grown food is important to our customers and that's why 100% of our unprocessed fresh lamb is British 100% of the time. We're pleased to be working with Quality Meat Scotland to promote Scotch Lamb and to deliver great quality, fresh products for our customers."