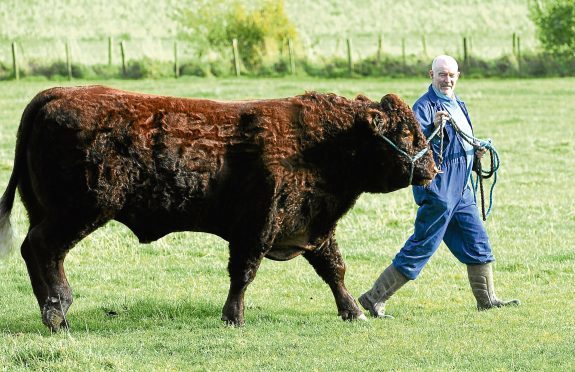 Salers cattle are growing in popularity with more and more farmers turning to the continental breed in search of easy-calving cows.
One of the first Scottish farmers to take Salers cattle on to his farm was Alister Mackenzie, who farms in partnership with his father, Alister sen, at the 360-acre Whitebog Farm, near Fortrose, on the Black Isle.
The Mackenzies first introduced Salers to their herd 30 years ago following a visit by Alister jun to Canada, where he witnessed the breed on a farm.
They are now regular faces on the show circuit in the north of Scotland, and in recent years the Highland Show.
Alister jun's wife, Sherrie, and their 15-year-old daughter, Mollie, help with showing, and well-known stockman Jimmy Laing, of Invergordon, also helps prepare bulls for sale.
At this year's Highland Show the family took the reserve breed championship title with Whitebog Karbolic, which is being offered for sale later this year.
And they are currently busy preparing two junior bulls to take to the Stirling Bull Sales later this month, and three bulls to take to the breed's national sale at Castle Douglas.
Alister jun says the breed is coming into fashion – a trend evident at the sale ring at Stirling.
In the past there were few faces around the ring, however "you can hardly move" at the ringside these days, according to Alister jun
The two junior bulls being offered for sale at Stirling are Whitebog Lad and Whitebog Lorry, which are both by the herd's intermediate stock bull Seawell Diplomat.
Bought at Castle Douglas seven years ago for 3,600gn, Diplomat has already sired sons up to 12,000gn – the highest price ever paid for a Salers bull.
The Mackenzies hold the breed record jointly as two other bulls from other herds have sold for the same price.
Alister jun says in the past the family struggled to sell a handful of bulls, but now they had no problem selling up to 15 bulls a year. "A lot of these bulls are going on to Simmental cross cows," he said. "Salers had the top average price out of all the breeds in February and the top price at the Stirling sale in May."
At Whitebog, the family runs a herd of 160 cows, with more than half pure Salers and the rest Salers cross.
"The calves are easy born and the cows produce calves easily. They are not too big and the biggest cows we are selling cast are about 800kg," said Alister jun.
He said the common perception that Salers were wild was "nonsense".
"The first thing everyone asks is 'are they wild?'," added Alister jun.
"They have been told that by other people but it's basically nonsense. They are easy cows to work and very self-contained."
At Whitebog, the Mackenzies put a Charolais bull on the commercial cattle, and they are managing to finish bull beef at just under 12 months old for an average price of £1,470.
"We sell most of the calves as stores, but they work away on bull beef. They take a month longer than a (pure) Charolais but they grade well enough," said Alister jun.
The cattle are calved in two batches to ensure bulls are available for the busy sale periods. "We have 20 pedigree cows calving in March and the rest calve in July and August," said Alister jun.
Pedigree cows are brought inside for calving, but the rest are left outside. All stock is brought in for winter and the bulls are fed a ration of home-grown oats, straw and a concentrate blend. Cows get a ration of straw, oats, potale, draff and silage.
All males are kept entire so that bulls with potential can be selected throughout various selection stages from a young age. And when it comes to selecting bulls for sale, the Mackenzies look for the usual traits but they are also keen to ensure they have a mixture of bulls so they have something to suit everyone.
l The Stirling Bull Sales takes place from Sunday, October 22, to Tuesday, October 24. Shows of Aberdeen-Angus, Beef Shorthorn and Limousin cattle take place on the Sunday as well as a parade of Salers bulls. The Monday kicks off with a show of Charolais beasts, and sales for Aberdeen-Angus, beef Shorthorn, Limousin, Salers and Charolais females. Simmentals are shown on the Monday and sold on the Tuesday along with Charolais bulls.