Farmers need to take the initiative to move away from area-based payments to a system which rewards innovation and productivity.
That was the clear message from NFU Scotland policy director Jonnie Hall speaking at the latest of the union's Scotland-wide 11-venue Brexit roadshow at Thainstone Centre, Inverurie.
"The current area-based system of EU support has incentivised inertia," he said. "Whether we like it or not, both the EU and the UK are moving away from area-based support and we need to take the initiative to develop a system which rewards and encourages active farming, otherwise we will finish up with a system imposed on us by the environmental lobby."
The thrust of the union's policy proposals, which were strongly backed at the meeting by union president Andrew McCornick and vice-president Martin Kennedy, met with the general approval of the 60 farmers present and will be fine-tuned in the coming weeks for presentation to the UK and Scottish governments.
"Farming and the food industry is facing the biggest single challenge for a generation," Mr Hall said. "Every single farmer and every business associated with food production will be affected by the process.
"We will have to recast the way we do things and your union needs the backing of all farmers to achieve our objectives. Nobody else is going to argue your case."
It would be nice if farmers could earn their living wholly from the market, Mr Hall admitted, but that was not going to happen in the short term. Whatever policy was devised post-Brexit, farmers would require a support package of some sort although he suggested the industry should drop the term "support" which had the wrong connotations and replace it with "stability payment".
Mr Hall stressed the importance of agreeing a common regulatory framework for the UK to ensure a level playingfield, with scope for the devolved administrations to develop policies to suit their own conditions.
Beef and sheep were the predominant sectors in Scotland but the reverse was the case in England. It would be "curtains" for Scottish farming if the policies being advocated by UK Environment Secretary Michael Gove were to be adopted.
The aim of the union's proposal would be to enable farmers to earn more from the market and depend less on support over a five-year transitional period.
Adding more detail to the proposals, Mr Kennedy suggested every eligible hectare would qualify for a ring-fenced stability payment based on a rolling three-year average. Farmers would receive the same overall income but derived in a different way to encourage activity. Funds would be unlocked by eliminating opportunities for "slipper" farmers and perhaps by a cap on larger payments.
As an example, based on a target £200 per hectare payment, a 250ha arable farmer might see a reduction in stability payment of £40/ha over the five-year transitional period but a productivity payment increase of the same amount, giving him the same total payment per year.
Similarly, a hill farm with 1,000 ewes and 50 cows could see a reduction of £12,000 in stability payment but a similar increase in productivity gains.
Productivity measures in the union's proposals to facilitate this change include five-year business plans, benchmarking across all enterprises, labour and skills development, better health planning, incentivising the recording of business data, soil health improvements, diversification and aiding the flow of farm produced inputs such as straw and feed across the country.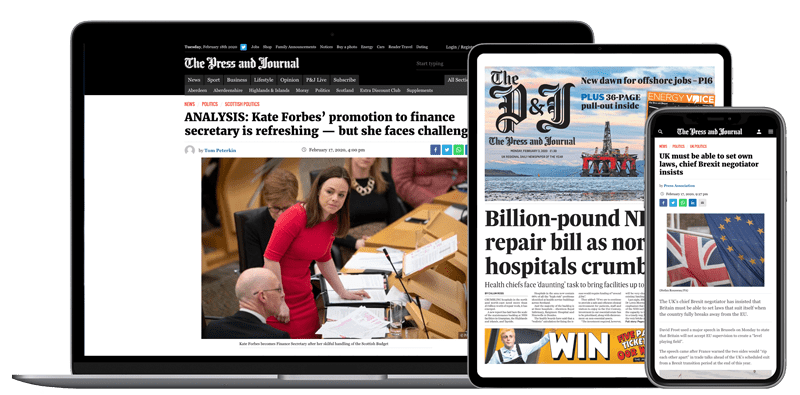 Help support quality local journalism … become a digital subscriber to The Press and Journal
For as little as £5.99 a month you can access all of our content, including Premium articles.
Subscribe