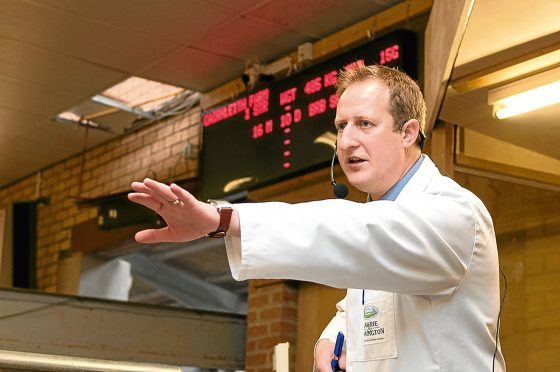 It is consistently Scotland's dearest market for finished cattle, and carries a nationwide reputation for selling top stock.
Yet, despite the unwavering weekly demand from butchers and wholesalers, Forfar mart is struggling to attract the cattle throughput it needs.
It is a similar story in the sheep ring, where trade is buoyant but numbers forward are half what they were in 2012.
Now the mart's hierarchy is on a mission to revive interest in the business and turn fortunes around.
Persistent rumours that Forfar is on the verge of closure have plagued the mart since it was the centre of a £1.4million fraud five years ago.
No farmers lost any money, and mart owners Lawrie & Symington absorbed the loss, yet producers have been slow to return and pledge their support for the last remaining livestock mart between Inverurie and Stirling.
Since 2012, weekly throughput has dropped from 1,500-1,600 lambs to only 600-700, and from up to 50 finished cattle to around 30.
Company chief executive Hamish McCall, auctioneer Daniel Johnston and local farming directors Andrew Steel and Graeme Mather are frustrated that the successful regular sales and assurances of a secure future for the centre have not been enough to persuade the local clientele to return to the fold and give their mart another chance.
"When I speak to farmers they all say they want the market to be there, but if that's the case they have to use it," said Andrew.
"I attend markets in a 100-mile radius of Forfar, and more often than not it is by far the dearest market I buy stores at.
"The quality on offer is better too, yet you get folk from around about running away to markets farther afield when they have a market on their doorstep where they'd get a better trade for their cattle.
"Just 40 years ago nearly every town in Angus had a mart.
"There were centres at Brechin, Edzell, Arbroath, Montrose, Carmylie, Kirriemuir and Dundee – and Forfar is now the only one left.
"We need markets because they are the only true guide to what prices should be, otherwise we'll end up going down the way of potatoes, grain and eggs, where prices are dictated to us. We want the mart to be here for the next generations."
Hamish McCall added: "If Forfar wasn't on the map, the nearest mart to the north is an hour and a quarter away and Stirling is a good hour and a half south, so geographically we're well placed."
Staff and expenses have been cut to the bone, leaving Daniel Johnstone as the mart's manager and sole auctioneer.
Mr McCall admits that one man isn't enough to cover producers in the Fife, Angus, Kincardine, Perthshire and south Aberdeenshire area who could potentially send stock to Forfar, so the business is advertising for apprentice auctioneers to join the team. "Forfar has great scope for expansion and I believe we could treble cattle and sheep throughput," said Mr McCall.
"I don't know why it's not bulging with cattle because they always command an above-average price.
"I can assure farmers that if they brought stock to the market they'd be treated well, and the facilities here are second to none."
Graeme Mather says some of the disenchantment with the mart is historical. "In some cases there's been a fallout or a disagreement 20 years ago and a farmer has upped sticks. We're just saying give it another chance," he said.
"The grass isn't always greener."
The team argues Forfar is recognised as a top beef centre because it's not a dairying area, so only stock from quality breeds are on offer at the weekly sales.
Daniel Johnstone has attracted new customers from Kinellar, Udny and as far afield as Orkney who have spotted the financial benefits of marketing their cattle at the Angus mart.
And he says several local producers have recently come back into the fold and have no intentions of going back to the markets they temporarily supplied before.
In the meantime other old regulars have turned to selling direct to abattoirs, but Mr Johnstone says there are still distinct advantages to traditional markets.
He said: "Farmers go home with a cheque in their pocket and have minimal transport costs and time away from home."
The one big Forfar mart event that unites the community is the annual Young Farmers' competition.
Around 40 young farmers buy stores at the big sale, which took place last weekend.
The stock has to be under 12 months of age and the purchases are underwriten by Lawrie & Symington until the animals are resold at the first April show and sale.
When it comes to showtime there is standing room only.
"It's the busiest sale in the year and there's always a shortage of calves," said Mr Johnstone.
"A young farmer makes on average around £300 if they don't cost all the feed they get from the farm.
"It's a great event and well supported."
The mart has been promoting its Strathmore exhibition hall for weddings, festivals, parties, shows, machinery sales, seminars and concerts, and there is a push on to attract new business here too.
According to Hamish McCall, Lawrie & Symington will have owned Forfar for 20 years by 2018 and view it as a centre with great potential.
He said: "We're celebrating the company's 150th anniversary this year and keen to expand the Forfar element of the business.
"We're in this for the long term."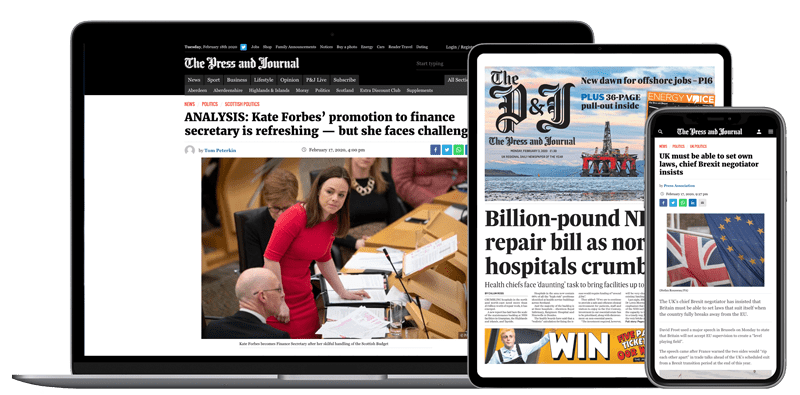 Help support quality local journalism … become a digital subscriber to The Press and Journal
For as little as £5.99 a month you can access all of our content, including Premium articles.
Subscribe