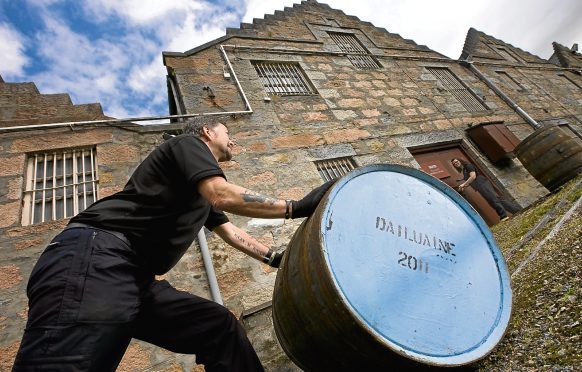 Drinks giant Diageo has announced plans to close its Speyside dark grains plant early next year.
The company, which is the world's largest producer of spirits, will close the plant at Dailuaine within the next few months.
The plant is a key supplier of draff and pot ale syrup – both byproducts from the whisky-making process – to livestock farmers in the north and north-east.
A spokeswoman for the company said the decision to close the plant had come about as a result of a review of all aspects of the business to ensure its asset base investments and processes were efficient and competitive for the future.
"As part of a recent review of coproduct activities carried out at our distilling operations we have announced that we will now partner with a specialist supplier to manage our coproduct flows into the animal feeds and bioenergy sectors," added the spokeswoman,
"This will result in the closure of our Speyside Dark Grains Plant in early 2018.
She said staff employed at the plant would be redeployed to other roles at the company's other Speyside sites.
Farmers union NFU Scotland said news of the plant's closure would concern some farmers, however the new agreement could prove to be more beneficial to Scottish farmers.
The union's chief executive, Scott Walker, said: "NFU Scotland understands from Diageo and the merchant who will be handling the animal feed that, on balance, the net effect on feed supplies should be positive.
"More draff and pot ale syrup should be available to local farmers, and some draff that for the last year had being going into a bio-energy plant will instead be going back into the livestock feed market."
He said the potential of extra supplies of feed would be welcomed by farmers.
"We hope this decision signals a recognition by Diageo that the animal feed market is a sustainable market for its coproducts and one that it is committed to long-term," added Mr Walker.
In the past year many farmers have spoken out against the use of distillery byproducts in renewable energy production They claim this has led to shortages of draff and pot ale syrup for use as livestock feed and increased prices for the products.
Scottish Government is currently carrying out research, at the request of the Scottish Tenant Farmers' Association, on the impact of distillery byproduct use in energy production.