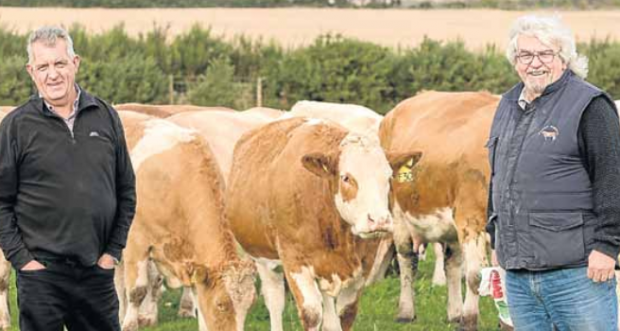 The development of a management system which focuses on carefully measuring and monitoring cattle performance, is one of the secrets of the success of Pitgaveny Farms, near Elgin.
The Pitgaveny beef enterprise, which involves two different beef units – one organic and one conventional – managed in tandem, was a finalist in this year's Scotch Beef Farm of the Year award, run by AgriScot and Quality Meat Scotland, and supported by Thorntons.
Brother and sister Crinan Dunbar and Rebecca Russell own Pitgaveny and it has been managed for more than 30 years by Martin Birse, who has overseen the development of the farm both in size and in the number of different enterprises. It now runs to just under 2,000 hectares with 1,200 hectares of arable of which 300 hectares are organic. Grassland is divided between permanent and temporary and also organic and conventional.
"To have organic cattle you almost have to be self-sufficient in feed but we find it is worth it. The diet is silage-based and we grow our own organic cereals and beans with any surplus sold to an organic dairy in Aberdeenshire," said Mr Birse, who works closely with head stockman Geoff Anderson to ensure the performance of both herds continues to improve.
The key to both cattle units is growing good quality silage with high energy and protein levels. A target ME of 11 and protein of 14% is set for the organic silage to compensate for the restrictions on concentrates in the diets of organic sheep and cattle. ME of 10.6 and protein of 13% is the aim for conventional silage which is pitted and analysed every two months through the winter.
The herd of 50 organic Aberdeen-Angus cross suckler cows is split 40 spring and 10 autumn calving and heifer calves are kept each year for replacements as the long-term plan is to build the herd up to 70 or 80 head to make use of a further 60 hectares of land currently under organic conversion.
All the organic cows are out-wintered on organic cereal stubbles on a diet of silage and straw supplemented with minerals. Most of the heifer calves are kept for replacements while the steers are finished at around 24 months on home-grown silage, barley and beans. Mr Birse said: "The premium makes the longer finishing time worth-while – currently organic beef is worth about £5 per kg while conventional is £3.70 to £3.80 per kg." The average carcase weight is 380kg sold to Scotbeef for Marks and Spencer and Mr Birse said the best of his cattle were selling for £2,000 per head, with an average around £1,700.
The conventional cattle unit is at the opposite end of the spectrum with bull calves kept entire and finished at 12 to 14 months of age on an intensive home-grown cereal and protein-based diet.
The 178 hectares of conventional grassland supports a herd of 200 pure Simmental suckler cows which are split 106 spring and 94 autumn calving. The spring calvers are out-wintered and heifer replacements kept from both herds.
"Surplus heifers have found a good market as bulling heifers at 16 to 18 months, especially as surrogate mothers among pedigree herds thanks to their high health status and milking ability," said Mr Birse.
All fattening and rearing cattle are weighed regularly to ensure weight gains match the targets set and for which the winter rations are devised. These targets are 1.7kg/day for intensive non-organic cereal beef, 1 to 1.25kg/day for organic finishing cattle and 0.8 to 1kg per day for non-organic weaned heifer calves.Pitgaveny has recently introduced a paperless system for cropping records and Mr Birse would like to do the same for cattle with electronic tagging and weigh scales although he believes the manual weighing and recording system works very well at the moment.
Mr Birse was keen to improve the finishing weights of the cattle at Pitgaveny. He therefore introduced sugar beet pulp and wheat into the diet and this year the finishing weight was achieved 54 days earlier, increasing the profitability of the enterprise by £52 per head despite the more expensive ration.
The careful management and monitoring of two very different herds on one farm with ambitious goals of performance and profitability, means it is no surprise that Pitgaveny was announced as one of the final three for the award. However Mr Birse said he was "gobsmacked" when he heard the farm had been nominated.
He said: "We try to do a reasonable job here but do not expect to be nominated for awards. I am pleased for the owners, staff and Geoff, in particular, to be recognised for the work they put in."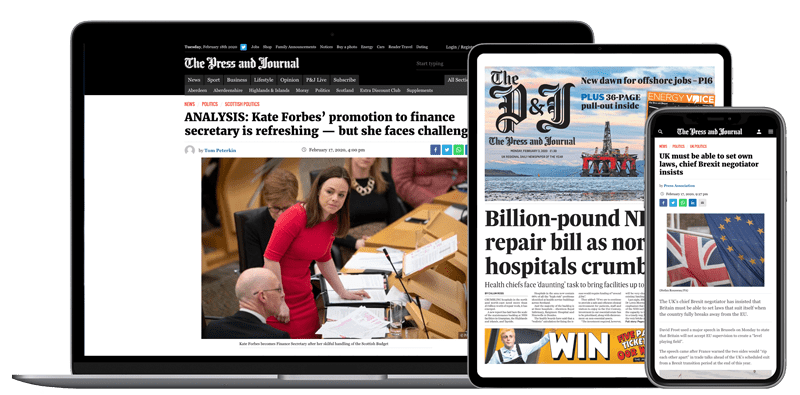 Help support quality local journalism … become a digital subscriber to The Press and Journal
For as little as £5.99 a month you can access all of our content, including Premium articles.
Subscribe