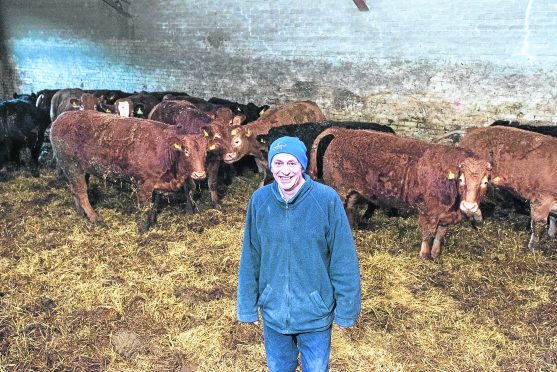 Farmers who attend the next monitor farm meeting at Mill of Inverarity, near Forfar, will be asked for their opinions on crossing breeds.
The Angus monitor farm currently runs 200 Simmental and Limousin cross suckler cows with 150 stores and 150 finishers, but farmer Rob Stodart is not certain he has the right breed for his system.
"I'm concerned that our Limmy crosses, many of which are now being put to a Limmy bull, are going to become almost purebred Limousin and they will lose the good mothering and milk characteristics that we need," he said.
"We'd like to take advice from other farmers about the future herd."
The meeting will start on the farm with a look at the present cattle enterprise before moving to the mart for a workshop which will call for suggestions for real changes to the current system.
As well as cow breeds, the group will also debate the use of AI versus natural service and the benefits of a closed herd and how best to achieve it. Discussion will also focus on the possibility of moving to only spring calving and whether they should sell store or finished stock – or both.
Mr Stodart said: "I think 2018 will see changes to how we farm here at the Mill. We need to ensure we are working as efficiently as possible and we're really open to new ideas and hearing other farmers' experiences to help us decide the future of the herd".
There will also be a review of the arable side of the business in 2017. Farmers will discuss how the crops fared in terms of yield and quality, autumn planting decisions, as well as discussing spring planting plans.
The meeting will begin at Mill of Inverarity Farm, Forfar, Angus, DD8 2JN, at 10.30am, before moving onto Forfar Mart for lunch. It will close at 3pm.
The event on Thursday is free to attend but to assist with catering, attendees are asked to book a place by contacting Stacey Hamilton on 01569 762305 or stacey.hamilton@sac.co.uk