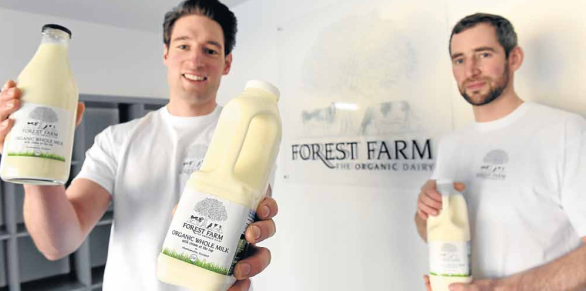 As the first dairy farm in Scotland to be certified as organic, the Willis family, of Forest Farm, Glasgoforest, have never been afraid of doing something different.
Now almost 20 years later, brothers Will and Angus are hoping their latest venture will be equally successful, marking the start of a new era for the business following Angus's return to the farm after a career the oil and gas industry.
"We thought about a vending machine for years, but we'd never found the time to get the project running," says Will, who has 140 Holstein Fiesian cattle across 390 acres in partnership with his brother, as well as his mother, Anne.
"We thought there was a gap in the market to give people an opportunity to buy local, pasteurised organic milk, and we wanted to create that link back with consumers and re-engage with them about their food."
With no milk vending machines in Scotland, the brothers visited farmers in England who have been successfully selling milk direct to the public, taking them to Norfolk, Nottinghamshire and Berkshire.
The tour convinced them that their location – just off the A96 to Aberdeen – gives them a sound base to build their business on, as hundreds of potential customers pass their farm gate every day.
Investing £40,000 in total, the brothers set about transforming the old farm office into a shop to house the vending machine, and creating rooms for the pasteuriser and raw milk tank.
"We spoke to environmental health from the outset so that they understood what we were planning, and so that we knew exactly what we needed to do," says Will.
"Before we started we didn't know how strictly things would be regulated. We had to build a pasteurisation room which is separate from the raw milk room, and it's had to be lined with UPVC panelling and have sealed drains installed.
"We have put in a foam washing unit for cleaning all of the equipment, and I had to do a course in intermediate food hygiene and create a Hazard Analysis and Critical Control Point (HACCP) plan to prove we were doing everything safely."
When it came to choosing the vending machine model, the brothers decided on a DF Italia, a model which is widely used on farms in England.
"It's easy to operate and reliable, which is key," says Will. "We don't want people coming out of their way to buy milk then finding they can't buy it.
"We sourced the pasteurisation unit from Holland and found a secondhand cooling tank," he adds. "The pasteuriser can handle 500 litres, while the vending machine holds 200 litres, so the idea is we can switch between barrels and won't run out."
Will is hopeful they will sell 200 litres a day at £1.20 a litre, but he insists the venture isn't simply about making a premium.
"We sell our milk to Omsco and we are more than happy with the price we get, but this is a new challenge and we're excited by it," he says.
"We like the idea of people buying into the experience and coming on to the farm to find out where their milk comes from."
To help them tell the story of their milk, the brothers plan to show videos inside the shop so customers can learn more about the farm and its cows.
The pair also make use of social media, building a strong following on picture-sharing app Instagram – thanks in part to images of Angus's photogenic dachshund puppy Percy, who enjoys getting up close to the herd.
"One thing we learned from our visits to other farms is that marketing is key, and if we can get people connected to what we do here than that's great," Will says. "We're proud of what we do and we're pleased we're getting the chance to show people."