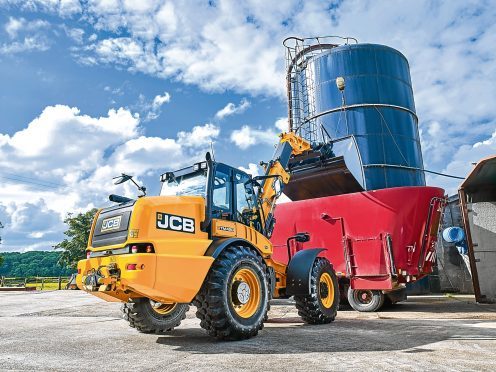 British machinery giant JCB has added a new model to its range of telescopic wheeled loaders.
The company has launched the new TM420 model, which brings 32% more load lifting ability than its sister models – the TM320 and TM320S – at 4,100kg.
It also boasts additional lift height at 5.4metres to enable farmers to easily load high-sided diet feeders and storage bins.
"The new JCB TM420 delivers more performance and increased capabilities to meet customer demand for greater productivity and lower costs," said JCB's chief innovation and growth officer, Tim Burnhope.
"It's as if the TM320S has been to the gym – it's got more muscle where it counts but remains a compact and highly manoeuvrable machine that suits anyone wanting to exploit the performance and durability of a wheeled loader with the versatility of a telescopic handler."
Mr Burnhope said the new model used the same 145hp JCB EcoMAX engine as its sister models and it also included all their recent improvements and upgrades.
These include an improved cab with instruments providing daily start-up checks from the driver's seat; LED lighting options; and self-lubricating bushes that extend greasing intervals to 500 hours.
Other features of the new TM420 include: a regenerative hydraulics circuit to give faster boom lowering for quicker loading cycles; a tougher chassis with larger pins and bushes for the centre pivot and loader; heavier-duty axles with permanent four-wheel drive to handle the increased payload; and 26-inch wheels with larger tyres to optimise traction, flotation and productivity.
JCB said the new model expanded its loader range to "encompass a broader span of performance capabilities."
Models in the range include the 64hp TM180, which has a lift performance of 1.8 tonnes to the 74hp TM220 which is capable of lifting 2.2tonnes – both suitable for lighter-duty livestock farm work, while the 125hp TM320 and 145hp TM320S are suitable for larger stock and arable farms.
"The TM320S, with its greater engine power, higher output hydraulics and transmission torque lock-up characteristics that give it great climbing ability, appeals to contractors engaged in silage and muck spreading operations," said JCB.
"What all these machines have in common is a central driving position that is familiar to tractor drivers and provides a commanding view around the machine. Also, the engine location in the tail provides a natural counter-balance, resulting in excellent weight distribution with a full fork or bucket and huge levels of traction in soft and slippery ground conditions."