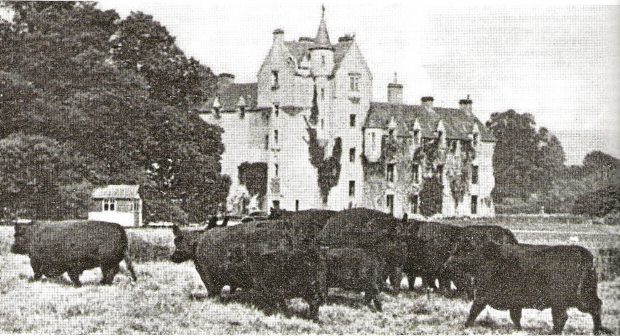 This week marks the 110th anniversary of the death of one of the great Aberdeen-Angus cattle breeders – Sir George Macpherson-Grant of Ballindalloch on Speyside.
His death in Edinburgh followed success at the Scottish National Fatstock Show the previous day.
Grant was born in 1839 and succeeded his father in 1850, moving to Ballindalloch in 1861.
Although there were black polled cattle at Ballindalloch for a great many years he very shortly began his famous herd improvements with the purchase of the four-year-old cow Erica which was probably bred from Beauty of Kaylor from Lord Southesk's sale at Kinnaird in Angus.
Over the years many other notable family lines were added to the herd.
Sir George began his refining work when William McCombie of Tillyfour was still to the fore and bought beasts from him.
McCombie, who was regarded as the builder of the breed, in turn had bought beasts from the acknowledged founder Hugh Watson of Keillor so original bloodlines ran through the Ballindalloch beasts.
These three are regarded as the key men in the creation of firstly the Polled Cattle breed which later became the Aberdeen-Angus breed.
Indeed, it was Macpherson-Grant who moved a motion to start the Society of Polled Cattle at a meeting in Perth in 1879.
Success in the show ring was common place including wins in Paris in 1878 when he and McCombie took the breed to new heights.
Away from cattle he was to stand as the MP for Moray and Nairn from 1879 to 1886 and helped steer the fortunes of the Highland Railway Co during a difficult period.
In 1904 fellow breeders presented him with an inscribed silver jardinière in recognition of his services to the breed.
In his acceptance speech he declared his work was nearly done but he wanted to stick at it a bit longer, so he could firmly nail the black flag somewhere at Ballindalloch so that no power could pull it down.
Today there are still Macpherson-Grants at Ballindalloch and of course there are still Aberdeen-Angus cattle.
The herd still enjoys success on the show circuit in the north and north-east under the watchful eye of herd manager David Johnstone and his wife Susan.