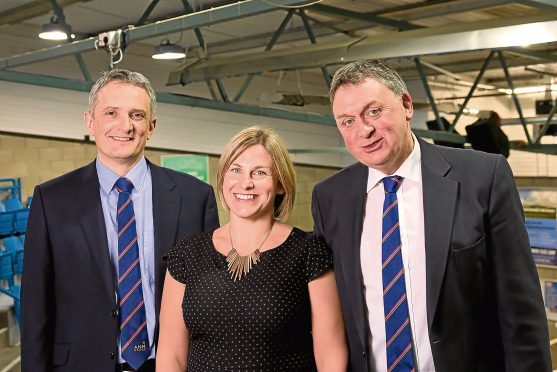 The driving force behind an award-winning Aberdeenshire farm shop is to join the board of north-east farmers' co-operative ANM Group in the new year.
Anna Mitchell, of Castleton Farm Shop at Fordoun, near Laurencekirk, will be officially co-opted on to the ANM Group board in January.
She has run the popular Castleton farm shop and cafe since 2008 and overseen its growth into an award-winning business in the past nine years. It forms part of the wider Castleton Farm soft fruit business, which is run by Mrs Mitchell's husband, Ross, and his parents, Murray and Rhoda.
Mrs Mitchell hails from an Ayrshire dairy farming background, and she graduated from the University of the West of Scotland, known then as the University of Paisley, with a BA Honours degree in business administration in 2002.
This follows completion of an HND in leisure and recreation management at SRUC in Ayr.
Prior to opening Castleton Farm Shop, she worked for five years at East Coast Viners Animal Nutrition in Drumlithie as a customer services supervisor.
ANM Group chairman Pete Watson, who farms at Darnford near Banchory, welcomed Mrs Mitchell's appointment. He said: "Anna's remarkable combination of skills and knowledge mirrors the strength and diversity of the group.
"She has proven experience not just in agriculture, but also in hospitality and catering – evidenced through the ongoing success of her own business enterprise.
"I know her contribution will be invaluable as we work together to set the future direction of the group."
Commenting on her appointment, Mrs Mitchell said: "The group's diversity means it is ideally placed to support members and customers from across industries and in the areas in which it operates, regardless of the considerable challenges in the economic and political landscape.
"The impressive knowledge and dedication of its staff continue to make it a success, and I'm honoured to be joining the board."
ANM Group chief executive Grant Rogerson welcomed Mrs Mitchell's appointment and said he looked forward to working with her. He said: "Regardless of the difficulties we face – from Brexit uncertainty to market fluctuations – there are always opportunities to grasp, and the group's contribution to, and importance in, the local economy is fundamental to growing our influence, representing our members, and strengthening their voice.
"I'm proud to say Anna joins a dedicated group of individuals who live and breathe our co-operative mantra – service, not self."