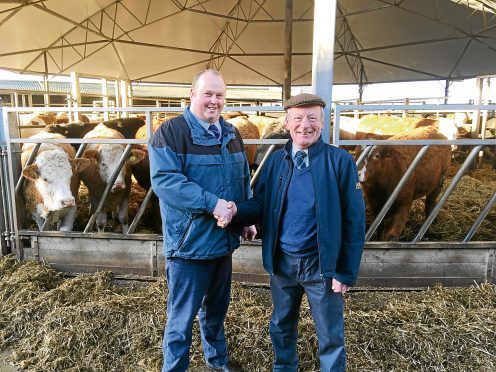 Aberdeen and Northern Marts – the marts division of north-east farmers' co-operative ANM Group – has appointed a new auctioneer to serve the Buchan area.
Marc MacIntosh has been promoted to the position of senior auctioneer, with a specific focus on Buchan.
Mr MacIntosh is a long-serving employee of ANM and a fellow of the Institute of Auctioneers and Appraisers in Scotland.
He has 23 years' experience auctioning livestock at ANM's Thainstone Centre, near Inverurie, together with valuation and farm displenish sales experience.
Mr MacIntosh will take on his new role following the retirement of auctioneer and fieldsman Charlie Morrison at the end of the year. He will be responsible for selling all classes of livestock, including the weekly sale of prime cattle and cull cows at Thainstone.
He will be supported in his new role by fieldsman Ellis Mutch.
ANM Group executive director John Gregor said: "We are delighted that Marc will be rising to the challenge of taking the role of senior auctioneer.
"His years of service at ANM are greatly appreciated by all, and we look forward to having him overseeing the Buchan area in his new role, serving our members and customers."
John Angus, who is head of ANM's livestock team, said: "Marc has been a part of our team for a very long time and is a valuable member of staff.
"I look forward to working with him and having him oversee business in the Buchan area."
Outgoing auctioneer and Buchan fieldsman Charlie Morrison has worked for 48 years in the Buchan area.
He is set to retire from his role at ANM at the end of this year.
To commemorate his retirement, a local committee of customers has organised a retirement party to celebrate Mr Morrison's career.
The party is set to take place at Maud Village Hall on Saturday, January 6, 2018.