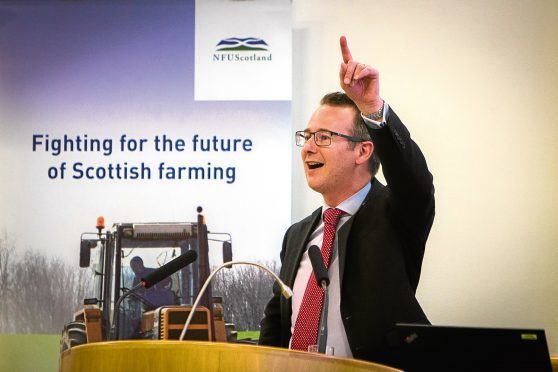 Farmers' union NFU Scotland (NFUS) enjoyed a boost in turnover last year.
Accounts filed for the organisation reveal a £131,181 increase in turnover to £2.851million for the year ended October 31, 2017.
This is against pre-tax profits of £288,357 – down slightly on £289,265 the year before.
Membership subscriptions income increased to £2.12million, from £2.07million, while union expenditure in the year was up 5% to £2.84million, from £2.7million previously.
NFUS chief executive Scott Walker said the union's "other income" had increased as a result of the range of affinity deals and benefits available to members.
This increased to £106,974, from £31,975 the year before.
He said the union's "robust" set of accounts meant it was in a strong position and plans were under way to increase staff numbers.
NFUS is currently recruiting for an economist and a policy manager to specialise in the Common Agricultural Policy (Cap) and post-Brexit support schemes.
"Our strategy to grow our affinity partners to put money back in the pockets of our members while at the same time developing a new income source for the union is paying off," said Mr Walker.
"With this money, I plan to increase the size of our policy team which will ensure that we continue to represent farmers and crofters on the big issues as well as delivering assistance to members in their time of need."
He praised the efforts of union staff in the past year and said everyone who worked at NFUS understands the difficulties members have faced in the past year, as well as the uncertainty ahead.
"We are 100% focused on delivering for all farmers and crofters in Scotland through our 'big picture' work on Brexit as well as the 'bread and butter' work of assisting individual members with problems they encounter on a day-to-day basis," said Mr Walker.
"Since the referendum on EU membership in June 2016, the union has built a positive case for Scotland's farmers and crofters to be supported outside of the EU – via continued free trade with the EU; new, ambitious international trade deals; access to a non-UK labour pool; and a well-funded, refreshed agricultural policy that fits the needs of Scotland's unique landscape and farming practices."
Meanwhile, NFUS president Andrew McCornick says the union is on a mission to get more women involved with its activities at both regional and national level.
He said: "We need to encourage as many women to come forward and be as active as possible to address the under-representation in the union at the moment.
"I believe that the best way to improve representation is to start at a local and regional level and build from there. We are starting to see women come forward to get involved with NFUS, and we are going to work with them in 2018 and beyond.
"Ultimately, I want to see more women progress through the union and on to our committees and our board."