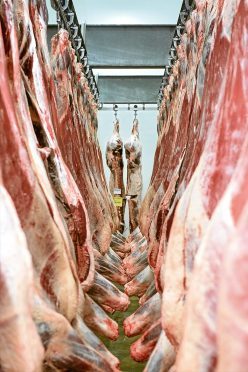 Scottish meat processing company AP Jess plunged into the red last year following a major fire at one of its manufacturing plants.
Accounts filed with Companies House reveal the firm, which also has a stake in an oyster business on the Isle of Barra, posted a pre-tax loss of £250,541 for the year ended March 31, 2017.
This follows pre-tax profits of £1.452million the year before.
Turnover at the firm was down slightly to £13.197million, from £13.658million before.
The firm, which is run by brothers Allan and David Jess, has its main beef processing operation at the Sandyford abattoir in Paisley.
Manufacturing and retail distribution is done at subsidiary firm McKechnie Jess Ltd in Greenock, while a cooked meat business – Charcuterie Continental Ltd – runs out of Twechar, near Glasgow.
In 2015 the company formed Traigh Mhor Oysters, following a tie-up with Isle of Barra Oysters. In his report accompanying the accounts, David Jess said the company had been on track to post an operating profit until a major fire hit the McKechnie Jess site in Greenock.
"Putting aside the destruction of the premises, this had a major effect on the future plans of the group due to ongoing plans for the expansion of this factory in order to expand our operations to meet the increasing demands for the products the group were offering," said Mr Jess.
"At the point of the fire, the group had already invested in excess of £286,000 in the preparation of this expansion. Due to the fire this cost is viewed as a sunk cost and has been written off in the year which has resulted in an operating loss of £262,888."
He said the Charcuterie Continental Ltd subsidiary made a loss in the year as expected. However changes to its product lines were bearing fruit and the division had been making a profit since November last year. The abattoir division posted a similar performance to last year and Mr Jess said: "Both turnover and profitability are up slightly despite the fall in the pound meaning that there were significant amounts of EU meat in the marketplace and cattle prices continued to be volatile."
He said the group sold its first oysters during the year and it was unlikely that the oyster division would reach breakeven point until the year ending March 2019, after which "healthy profits" will be achieved.