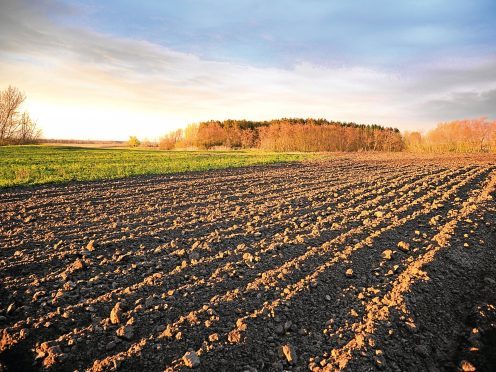 Farmland supply is tight and prices are holding up due to the uncertainty posed by Brexit, claims Savills.
According to the land agency firm, 39,400 acres of land were offered for sale on the open market last year, representing a 12% decrease on the amount forward the year before.
"With fewer opportunities to purchase, demand was concentrated on the limited acreage launched to the Scottish market last year with more buyers coming from all over the UK," said the company's head of rural agency, Charles Dudgeon.
"Of the 311 buyers who viewed farms launched by Savills in 2017, 38% originated from outside Scotland, up by 15% on the previous year. This demonstrates the continuing drive from purchasers to achieve value for money in a quest for scale and underlines the importance of sellers casting one's net as wide as possible."
He said market activity was particularly focused in the north-east and south-west of the country, and Dumfries and Galloway was the only region in Scotland to experience an increase in the number of acres advertised – up 17%.
The Savills Farmland Value Survey reveals that during the first nine months of 2017, the average value of prime arable land was £7,690 per acre. This compares to a GB average of £8,940 an acre. Mr Dudgeon said: "2017 saw a widening between 'the best' and 'the rest' with prime arable land on the east coast often making more than £9,000 per acre in contrast to £5,000 for poorer arable land in other areas.
"In a similar vein, quality pasture in productive dairy areas can achieve over £5,000 where demand is strong."
Looking ahead to market prospects for 2018, Mr Dudgeon said appetite for land remained strong, particularly for quality, well-equipped holdings that were fairly priced.
"Banks are supportive but are taking a more rigorous approach to lending in the current political climate which has resulted in buyers requiring more time to prepare offers and deals taking longer to complete," said Mr Dudgeon.
"There is no doubt that the current uncertainty surrounding the Brexit negotiations has restricted the level of land coming to market. We anticipate that this will continue until the outcome for farming post 2019 is known, and as a result, values will hold up in the meantime."
He predicted an increase in the amount of land offered post-Brexit, and the potential for dampened buyer enthusiasm if interest rates rise further, as predicted by the Central Banks, and as the emphasis in farm subsidy support moves away from production-based payments.