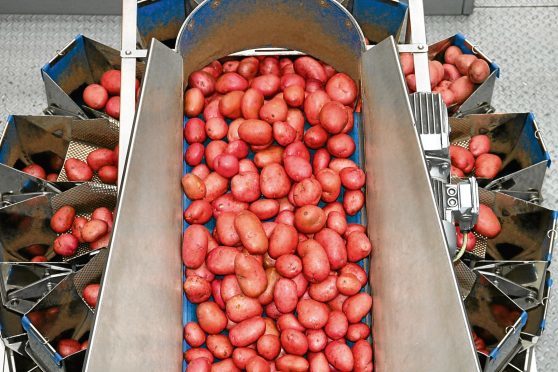 One of Scotland's most well-known potato companies enjoyed a boost in turnover and profits last year.
Accounts for Airdrie-based Albert Bartlett Holdings Ltd, which runs the popular Albert Bartlett potato brand, reveal the group posted a 14.7% increase in turnover to £170.928million for the year ended May 31, 2017.
This compares to turnover of £149.032million the year before when the group traded as Bartlett International Holdings Limited.
The new group was incorporated on April 1, 2016, and 100% of the Bartlett International Holdings Limited shares were transferred over by a share for share exchange on December 5, 2016. Pre-tax profits at the group also increased in the year by 27% to £7.022million, from £5.513million previously.
The accounts, which were filed with Companies House, show a boost in sales across all markets.
UK sales increased to £161.776million, from £141.721million before, while sales to the rest of Europe increased almost 10-fold to £457,719. Sales to the rest of the world were worth £8.694million.
In a report accompanying the accounts, company secretary Sara Miller said the trading performance of the group had been satisfactory during a year of "challenging market conditions".
"The group continues to develop and promote the Albert Bartlett brand as well as focusing on premium varieties and own-label offerings," said Ms Miller.
"We have seen strong growth in our frozen business in the UK where we have built a reputation for consistently high quality products which benefit from our end-to-end procurement model and technical understanding of the entire supply chain from field to fork."
She said the group was focusing on the customer offering within the supermarket's own label business to increase volumes and improve efficiencies.
"We have seen growth in our international businesses and have concentrated these efforts on the US market where we are showing good business improvement as we strengthen our growing and packing relationships and continue to evolve our Albert Bartlett product offering to respond to consumer demands and preferences," added Ms Miller.
She said the Scotty Brand, which includes soft fruit, salmon and bacon, would continue to develop its range.
The accounts also reveal that the group's only director, Ronnie Bartlett, was paid just under £2.5million in the year.
Mr Bartlett received a salary of £997,317 and a dividend of £1.5million.This compares to a salary of £1,014,261 and a dividend of £3.6million the year before.
Ms Miller said the group would focus on developing its fresh offering and growing its frozen and chilled businesses. International efforts will be focused on the US.