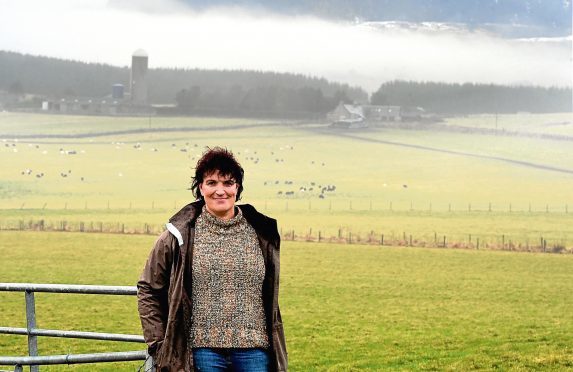 A drive to create a low-input, low-output, high nature value farm has evolved into a successful diversified farm business selling organic meat direct to the consumer.
Wark Farm, nestled near Cushnie, Alford, has been owned and run by Laurel Foreman for the past 14 years.
A former land agent, Ms Foreman says it was a life-long ambition of hers to own and work her own piece of land.
After studying ecological science at Edinburgh University, she completed a Masters degree in land economics at Aberdeen University before becoming a land agent – a career she enjoyed for 13 years before realising her ambition of becoming a full-time farmer.
"The way they taught us was to get to know your site first and then pick your species and management regime to suit the site so it's the ecological approach," said Ms Foreman.
When she took on the 200-acre Wark Farm she was still working as a land agent resulting in the drive to get low-input, hardy animals that required little management while she had another job away from the farm.
This led to a herd of pedigree Belted Galloways being established and a flock of Hebridean sheep. This now extends to 70 cows and three small flocks, based on Hebridean genetics, being run at the farm.
The unit has since been converted to organic production and 12 years ago an on-site butchery was built to enable Ms Foreman to butcher both the farm's animals and carcases brought in from other farm businesses. "The farm has been through a few evolutions over the years," said Ms Foreman. "When I started farming it, my intention was to run it as a high nature value farm on a relatively low-input, low-output basis. I started developing a system that allowed easy calving cows and low maintenance sheep."
She says it was sheer luck that her breed choices turned out to be so tasty – something which now benefits the farm's highly popular retail and wholesale meat business.
All Belted Galloways are finished on the farm off grass at between 30 and 40 months old, while the sheep are kept in three different flocks with the aim of providing either new season lamb or hoggets all year round.
Any excess lambs are sold directly to McIntosh Donald's plant at Portlethen, near Aberdeen.
The first flock comprises pure Hebridean ewes, which are put to a Hebridean tup, to produce replacement females and hoggets.
"I'm looking for a bit of length and width and something that will end up with hoggets at between 16-19kg carcase weight," said Ms Foreman.
The second flock, which Ms Foreman describes as her commercial Hebrideans, comprises Hebridean ewes that are not so true to type.
They are crossed with a Meatlinc tup to produce new season lambs for slaughter between October and June.
Lastly, the third flock comprises progeny from the second flock. These Hebridean Mules are crossed with a Meatlinc tup and their progeny go to McIntosh Donald.
"The thing about slow-growing breeds is that if you don't push them on, you are taking them to a level of maturity which you won't see in a continental cross animal," said Ms Foreman. "As the beast ages at the same fat level, the fat starts moving through the muscles and you get marbling."
In previous years, the meat business was based on a herd of outdoor pigs, however Ms Foreman quit pig production after feeling the strain of two cold winters and a massive increase in the price of organic pig feed.
Despite not selling pork from her own farm, Ms Foreman still produces a popular range of pork pies using pork from other farms in the area.
Nowadays, Ms Foreman sells her beef and lamb direct to customers via a once-a-month order service based around the timing of Banchory Farmer's Market.
She also sells lamb and pies to restaurants, cafes and delis including the Rothesay Rooms in Ballater, Finzean Farm Shop and Prince Charles' s residence at Birkhall, Ballater. This recently earned Wark Farm a Royal Warrant – something Ms Foreman is extremely proud of. In addition to the retail meat business, Ms Foreman is developing experience days on the farm and she also rents out a small one-bedroom flat above the butchery offering people the chance to come and holiday on a working organic farm.
A range of textiles, including rugs and scarves, are also made using wool from the Hebridean sheep.
On future plans, Ms Foreman says she plans to slowly grow the business and also work more closely at increasing biodiversity in some areas of the farm. "We want to stay true to our direct selling approach," said Ms Foreman.
"I want to slowly increase the direct sales and work with some more restaurants."