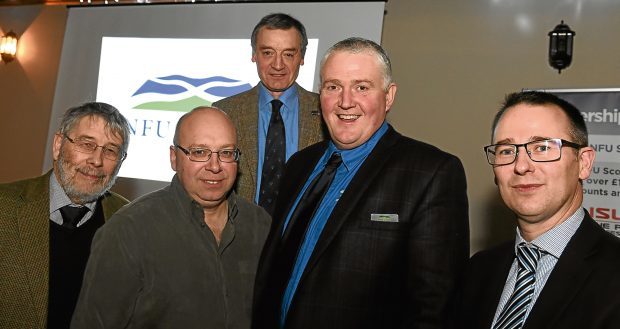 Farmers' union NFU Scotland (NFUS) has called on every farmer and crofter in Scotland to join its membership in a bid to strengthen its voice when lobbying for continued farm support after Brexit.
The plea was made at an open meeting following the regional annual meeting of the union's north-east board at the Lochter Activity Centre, near Oldmeldrum.
NFUS chief executive Scott Walker said the union was lobbying politicians in Holyrood, Westminster and Brussels to get the views of Scottish agriculture across.
He said the union's policy team would be strengthened with the recruitment of two new policy managers, funded by income of just over £100,000 from affinity partnership deals.
When challenged about the relatively low budget to bolster the union's efforts, Mr Walker said an increase in membership would greatly help increase the budget available for vital lobbying work.
He said: "There are as many farmers out there who could be members as there are who are members.
"It infuriates me the amount of people out there who are not members of this union. They are getting all the benefit that you guys are paying for.
"Everyone who farms in Scotland should be paying into this union and paying for our work. We should all be backing the industry at this point in time."
Mr Walker's plea was backed by Tom Johnston who farms at Cottown Farm, Drumblade, Huntly.
He said: "Is this not an opportunity to get more guys as members. We are paying for their benefit. As farmers, we are not hard enough on these guys who don't pay their dues."
Meanwhile, Westminster's drive to ensure farmers are doing their bit for the environment and a future focus on only paying public money to farmers delivering public goods was a concern for those attending the meeting.
One farmer said producers were already working hard to protect the environment and the government focus should extend to the wider supply chain. He used Muller as an example and questioned the environmental impact of hauling Aberdeenshire milk south for processing, to then return back to the north-east in bottles for shops.
Mr Walker said Scottish agriculture had a good story to tell, in terms of food production and its environmental benefits, and there was an onus on everyone in industry to communicate this to politicians and the public.
He said: "I think we have a fantastic story to tell but we cannot rest on our laurels."