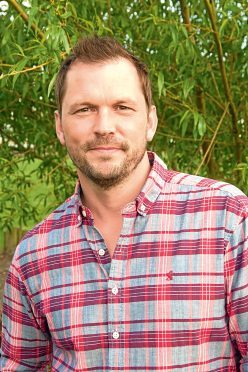 The Government needs to put food production to the top of its agenda, according to celebrity farmer Jimmy Doherty.
A regular face on television, often alongside celebrity chef Jamie Oliver, Mr Doherty runs a successful farm shop and retailing business from two units in Suffolk.
His focus is on native breeds ranging from traditional pig breeds and turkeys to native cattle including Belted Galloways, Highlands and Dexters.
Describing the farming sector as the "fabric of the nation" Mr Doherty said politicians did not put enough emphasis on the importance of maintaining food production in the country.
"If there was no food in the supermarkets things would come crashing down," he said.
"I wish the governments would put that to the top of the agenda. Farmers don't get the recognition they deserve for the food they produce of the countryside they maintain."
Looking ahead to a post-Brexit future, Mr Doherty said he was confident subsidy support would remain to ensure consumers could still enjoy cheap food.
"The problem we have got is we live now in an era of super cheap food," added Mr Doherty.
"We have created an artificial situation where the general public would be outraged if the price of a loaf of bread went up by 25p. As a nation we need to realise that food prices have to go up but that increase has to go up to the farmer."
He said failure to maintain subsidy support when the UK leaves Europe would lead to farmers needing paid more for their produce.
"I think if we look at who is going to cover the cost we either pay the full price of food of the government has to pay for the other services that farmers provide," said Mr Doherty.
"If that does not happen then we will see a lot of farmers not able to make it work."
He said the farming sector needed to look to take advantage of the opportunities ahead.
He believes consumers are interested in buying products that they believe to be unique – something that has helped his business when selling beef and pork from different breeds of animals to consumers.
"One thing I have learnt from farming and running a restaurant and shop is that the general public and the customers want uniqueness," said Mr Doherty.
The new series of Food Unwrapped with Jimmy Doherty, Kate Quilton, Matt Tebbutt and Dr Helen Lawal returns to Channel 4 this Spring.
For more information on Jimmy Doherty please see www.jimmysfarm.com