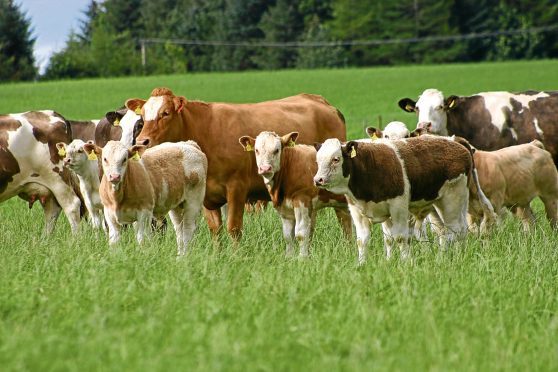 Efforts to improve genetics in beef herds must focus on creating differentiated products if Scottish farmers are to see any economic benefits from driving change, according to a breeding expert.
Matthew Cleveland, director of global beef product development at Genus ABS, said genetic selection had been used for generations to develop cattle which met certain goals of producers or customers.
But he said many selections failed to provide obvious benefits to everyone in the supply chain, meaning the market was rarely prepared to pay extra for any perceived improvements.
Speaking at the British Cattle Breeders Club annual conference in Telford, Shropshire, Mr Cleveland said some genetic selections might benefit one part of the supply chain while "antagonising" others, reducing farmers' ability to capitalise on any genetic improvements. Instead farmers needed to work on creating tailored, specific end products which had measurable value to the supply chain, he said. Only then would that added value be passed back along the supply chain to producers.
"The only way to maximise profitability is to have differentiation which results in measurable and demonstrable differences in value," Mr Cleveland told delegates.
"As you make genetic changes, you need a clear objective and to create an end product that has clearly recognised value for a specific supply chain."
Mr Cleveland said the beef sector had struggled to show the benefits of genetic improvements in the past, but ultimately it was the industry's responsibility to prove that it is creating products the supply chain wants.
This meant that producers needed to understand what was important to every step in the supply chain, but also be prepared to collect large amounts of relevant data so they could prove specific outcomes.
"We need something that we can show the supply chain that proves we have created something different," he said.
"We have a lot of segments in the industry and historically value is lost to original decision-maker. But once stakeholders see the value created they demand greater genetic differential. Farmers who identify those and act on them can benefit with larger financial rewards."
As soon as farmers have developed a system of genetic improvements that works for their herd, it's key that improvements are made every year using tailored selection indexes, he added.
"Once you've identified where to go, you want to get there as quickly as possible. The ultimate objective is profit, and that should guide your decisions," said Mr Cleveland.