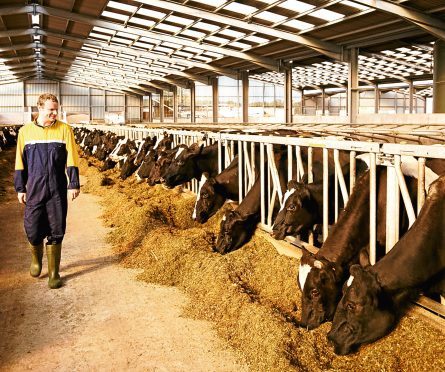 More than one in 10 workers employed on Scottish dairy farms are non-UK nationals, according to the results of a new survey.
The survey, commissioned by dairy consultancy firm Kite Consulting and carried out by Ian Potter Marketing Services, found that 13% of staff on the 108 Scottish dairy farms surveyed were foreign.
Of the 1,108 farms surveyed across the whole of the UK, 11.2% of staff were foreign and more than half of these non-UK workers were in skilled positions of herdsmen or herd managers.
The survey suggests that more than a third of the UK's milk is produced on farms that employ foreign staff, almost all of whom could move or return to European countries after Brexit.
Kite Consulting is now warning of a possible "cliff-edge" shortage of labour if current access to foreign workers is no longer an option once the UK leaves Europe.
"Labour issues have shot to the top of the list of challenges for many dairy farms after the Brexit referendum," said Kite's managing partner, John Allen.
"Clearly a very significant proportion of our milk is dependent on foreign workers, and over a quarter of farmers say they have significant or intense problems recruiting. It is already one of the key limiting factors to growth, and to the effective operation of dairy farms.
"The ready and steady supply of skilled, dedicated foreign workers is critical to the success of the sector, and to its long-term prosperity."
He said the survey found that more than half of farmers interviewed were experiencing difficulty at some level with recruiting staff, and a quarter said they had significant problems with this.
The managing director of the Royal Association of Dairy Farmers (RABDF), Matt Knight, said the survey findings highlighted the urgent need for government and industry to work together to avoid a possible labour shortage in the near future.
He said: "Government needs to first of all recognise the very specific needs of the UK dairy farming sector for permanent year-round semi-skilled and skilled labour.
"But we as a dairy industry also need to take collective and cohesive action to improve the image of dairy farming and the attractiveness of the sector as a career option to the domestic workforce."
He said a separate RABDF survey of the general public found that only 4% would be willing to take on the type of job roles found on UK dairy farms.
The full results of the Kite Consulting survey will be discussed at RABDF's Dairy-Tech event.
The event takes place on Wednesday, February 7, at Stoneleigh Park, Coventry.