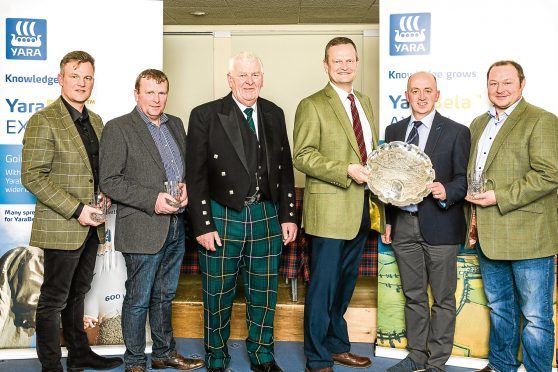 Curlers from across Scotland gathered in Perth last week for the Yara Farmers Curling Competition.
Now in its 35th year, the contest is the largest of its kind in Europe.
More than 60 teams competed at the prestigious competition at the city's Dewars Centre.
Spectators enjoyed watching two fiercely fought contests in the finals of both the high road and low road sections at the close of the week-long competition on Friday night.
Leading the charge to take home the top title for the second year in a row was a team skipped by Sandy Reid who works as a greenkeeper at the Carnoustie Golf Links.
Mr Reid's team, which won the high road final, comprised Stuart Stark of Abernyte, Perthshire; John Dunn of Scone, Perthshire; and Hamish Robertson of Friockheim, Angus.
The team took home a trophy and a £600 prize.
The runners up were a team skipped by Sandy Nelson from Crossgates, Fife, comprising Drew Thomson, Alan Barr and Harry Mitchell.
In the low road section, the winning team comprised Peter McLaren, Adam Haggart, Andrew Bayne and Roy McGregor. The runners up in this section were a team led by Aberdeenshire's Billy Henderson.
The other team members were Roy Henderson, Will Davidson-Gall and Alistair Sinclair.
The ladies competition was won by a team skipped by Wilma Brownlie from Lochgelly.
The other team members were Mary Lamont, Pat McFarlane and Margaret Nelson.
Event organiser Alan Wood, also known as Woodie, said: "Congratulations to all the teams and a big thank you to all who came along through the week to support all the players."
He paid tribute to all the staff at the Dewars Centre for providing a venue and hospitality for players during the week.
Mr Wood, who retired from Yara in 2016, also confirmed that the contest would take place again next year.
The 2019 competition will be the 36th contest organised by Mr Wood with support from Yara.