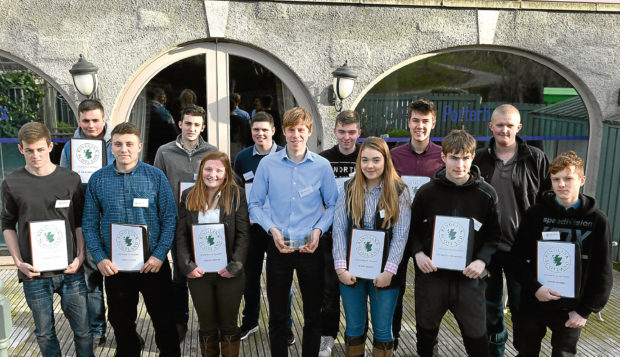 Despite all the uncertainties of Brexit, farming offers youngsters a good future and career path if they apply themselves and learn from the older generation.
There are plenty of opportunities for youngsters to help drive the industry forward, Ian Wilson, incoming chairman of the rural affairs committee of the Scottish Association of Young Farmers' Clubs, said at a lunch at the Thainstone Centre, Inverurie, to present certificates to the latest group of 13 youngsters who have completed Ringlink's pioneering internship programme.
"We may be facing uncertain times but one thing I know for sure is the industry's demand for youngsters like yourselves," said Mr Wilson, who manages Upper Coullie, Fettercairn, for Tulloch Farms. "Whether from a farming background or not, you will all be needed. All it takes is enthusiasm and the ability to listen and learn."
He said farmers had to be ready to handle whatever was thrown at them post-Brexit and stop looking back at what might have been.
"As an industry, we are known for our resilience and the quality products we produce. It's those two qualities that will ensure our industry survives," said Mr Wilson.
But he also had a warning – farmers needed to reconnect with the public and provide what their customers wanted.
"We have focused for too long on what we are good at, what we ourselves want to do and what our forefathers have done before us. Now is the time to change and adapt. Farming is a business and the most successful businesses in any industry are the ones which provide what their customer wants," he said.
A total of 59 youngsters have completed Ringlink's internship programme, which includes six months of on-farm mentoring by experienced farmers, over the past five years.
The latest group will be the last under the internship programme which has been renamed Land-based Pre-Apprenticeship and is now accredited by SRUC for a vocational qualification of SCQF level 4.
Ringlink has run the programme with support from industry, with the biggest backer being the Mains of Loirston Trust.
This year for the first time the Scottish Government has agreed to make a financial contribution for one year only but Ringlink has ambitions to pull in other machinery rings and roll the programme out throughout Scotland.
The 13 young people completing the latest course were: Nicholas Davidson, Portsoy; Kate Sellar, Auchenblae; Owen MacKintosh, Ellon; Murray Reid, Forres; Williamm King, Huntly; Joe Avis, Huntly; Robert Auchnie, Huntly; Ruari Wild-Wood, Stonehaven; Megan Thom, Blairgowrie; Shaun Buckie, Ellon; Lewis Peters, Forfar; Aidan Yule, Glamis; and Blair Robertson, Turriff.
The Mains of Loirston Trust Achievement Award to recognise the youngster who has excelled throughout the programme went to William King.