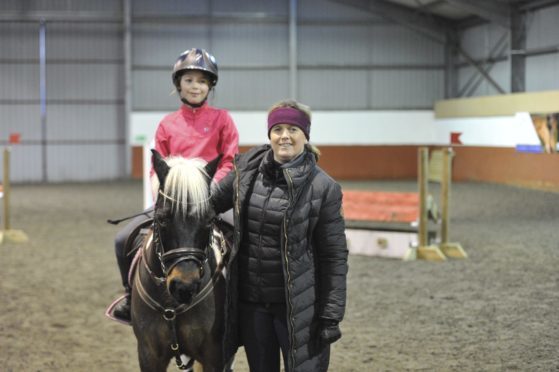 It is not often you get to meet your sporting hero not once but three times in one weekend.
I was lucky enough to take part in a training session with the eventing legend Pippa Funnell MBE – the first person in history to win the Rolex Grand Slam of eventing.
Having grown up glued to the TV each year during Badminton and Burghley and in particular, being in awe of her partnership with the great Supreme Rock, I was excited to have a lesson onboard my horse Bruno and intrigued to see if my expectations of the great eventer lived up to reality.
The ice was broken the evening before as I attended the Country Ways book-signing where Pippa met and chatted to her followers of all ages. As a three-time Olympic medallist, and now children's author, she has experienced a huge amount in her career and her two-day clinic was booked up with riders of all abilities.
Saturday's lesson started with flat work and a focus on "balance'" using the riders' position as a key influencer in how the horse should react in walk, trot and canter.
Quickly establishing the rider and horses' weaknesses, we worked on balance, obedience and keeping my position correct to allow the horse to work properly. Moving on to pole work, the same applied and the focus was to ensure the horse kept forward with little interference from me.
During jumping, the balance of my big-strided warmblood continued to need Pippa's attention so we worked on keeping him moving forward and working out the distances himself rather than having me help him. I soon discovered that the subtle change of movement of my core and lower back helped his jump so although it meant a change in my riding, it is something I took away with me to practice and work on.
Pippa's approachable teaching manner meant both young and older riders felt comfortable – but if there wasn't a reaction from you after her instructions she made sure you knew about it.
Saturday evening saw a crowd of Pippa's fans arrive for her demonstration where a group of riders and horses of different levels showcased her approaches and techniques for improving their way of going.
Pippa rode a couple of different horses where she highlighted the need for horses to move off the leg and begin working 'from behind' instead of using the hand to change their balance.
For me, Pippa's teaching matched my expectations and you felt she was genuinely there to help you and your horse.
She applied her own experiences to the lesson and took into account your level of riding and the character of the horse too.
The demonstration was well received and helped raise £2,000 of much-needed funds for ARC Hippotherapy: SCIO – a member group of RDA.
With sponsorship from Paterson Equestrian and Country Ways, David Lawson Equestrian Events once again helped bring legendary equestrian names to the north-east of Scotland.