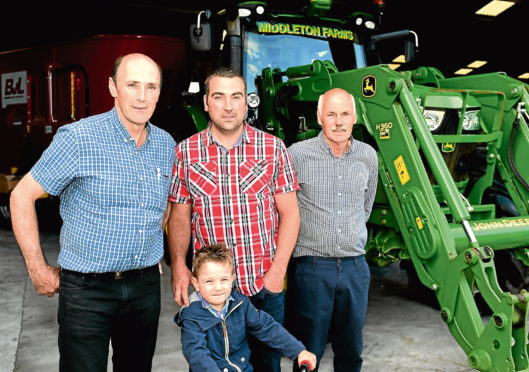 The North of Scotland Grassland Society (Norgrass) has revealed the winners of its annual silage competition.
The contest, which attracted entries from across the north and north-east from the Black Isle to Kincardineshire, was judged by Roddy Catto, of Hillhead of Muirton, Whitecairns.
Mr Catto, who runs a dairy farm with his wife Angela, was winner of the pit section of the competition last year.
All entries were intitially assessed on analysis and allocated marks for dry matter, ME, crude protein and intake factor.
A shortlist of eight was then drawn up and Mr Catto visited the farms over a two-day period last month.
He assessed pit management at each farm based on the lack of waste across the shoulders, side and top of the pit, as well as face uniformity.
Mr Catto also assessed effluent and manure/slurry management, and grass and livestock performance.
A similar assessment was carried out for bale storage and utilisation.
Mr Catto praised the quality of the silage put forward from each shortlisted farm business.
"Although the summer of 2017 was very wet the entries which made the short leet produced exceptionally high dry matter silages," said Mr Catto.
"I was particularly impressed with the samples from all the entrants in both the pit and bale section, all of which scored extremely high marks on analysis and were also closely matched in other aspects of the on-farm inspection."
Leading the charge to take home the BP Norgrass Trophy for the best entry in the pit section was the Thomson family at Middleton of Potterton, Aberdeen.
The farm is run by brothers Drew and Ian Thomson, and Ian's son, Ian jun.
The Thomsons use their winning silage to feed their beef cows and fattening cattle.
It scored 26.73 out of a possible 35 points in the analysis and 63 out of 65 in the on-farm inspection.
The Thomsons will now go on to represent Norgrass in the Scottish Silage Competition.
Second place in the pit section went to Andrew Farquharson of the Finzean Estate Partnership, Banchory, and the Willis family, who run an organic dairy at Glasgoforest Farm, Kinellar, came third.
The Harbro Trophy for the best new entrant in the pit section was awarded to dairy farmer Jean McLean of Mains of Culsh, New Deer, Turriff.
Meanwhile, the winner of the Grays of Fetterangus Trophy in the bale competition was Davie Winton of Haugh Farm, Birse, Aboyne.
Mr Winton, who is NFU Scotland north-east regional chairman, was a first-time entrant to the competition, landing him the George McCaig Ryeside Cup for the best new entrant in the section.
Second place in the bale section went to Newton Dee Camphill Community Farm, managed by Coralie Henke.
Third place went to Murray Cooper, Backhill of Thornton, Bourtie, Inverurie.