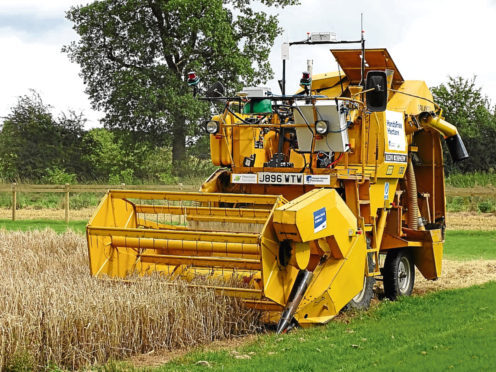 Technological innovations which could help Scotland's farmers create more profitable and sustainable businesses are set to come under the spotlight at two conferences this month.
The Farming Scotland conference will give farmers a glimpse into the future of food production by showcasing some of the world-leading innovations being developed and used in the UK.
Held next Thursday, February 8, at the Carnoustie Hotel, Angus, delegates will hear from one of the co-creators of the Hands-Free Hectare – an innovative project by Harper Adams University and Precision Decisions which saw them grow the world's first arable crop remotely.
Kit Franklin, agricultural engineering lecturer at Harper Adams, will explain how the team developed the equipment, tools and techniques to produce the crop of spring barley, what they learned along the way, and the implications for farming in future.
"The Hands Free Hectare project is the first step in breaking down technological barriers to automated field agriculture," Mr Franklin will tell delegates.
"We anticipate that automation will facilitate a sustainable system where multiple smaller, lighter machines, will enter the field, minimising the level of soil compaction, while facilitating high resolution precision farming, optimising and potentially reducing the inputs being used infield agriculture".
Mr Franklin will share the stage with other speakers including former NFU Scotland president and East Lothian arable and beef farmer John Kinnard, who was appointed the government's Agriculture and Sustainability Champion in 2017.
Mr Kinnard will speak about sustainable farming systems and what they could look like in Scotland, what producers need to think about if they are to farm more sustainably, and what input he is having in driving the sustainability debate with policymakers.
He will be joined Essex farmer Chris Newenham, who is managing director of Wilkin and Sons, the company behind the famous Tiptree jam brand.
Mr Newenham will talk about the company's approach of combining traditional business skills with cutting-edge technology, including growing fruit under glass using two-tier systems to maximise space and productivity.
The final speaker will be Colin Campbell, chief executive of the James Hutton Institute, who will talk about the latest research and technological developments being led by the centre, and their potential impacts on Scotland's farming future.
Graeme Davidson, Farming Scotland Conference chairman, said the variety of speakers will give delegates an insight into the next generation of production techniques, as well as practical ideas about how technology can be used on farms today. He said: "With so many uncertainties at the moment, innovation is going to be critical to ensuring farming and food production is sustainable and profitable in future. There's no doubt that farming will have to adapt and evolve. Whether that's dealing with climactic factors to economic ones, it will have to change, and technology will play a major part in helping to do that."
While there was no one technological solution to ensure every farm business is successful, learning about the options available will help farmers think about where they could make changes and drive improvements, Mr Davidson added. He said: "It's clear that businesses that want to grow and thrive in future have to have awareness of the technology that's out there, and have an open mind as to how they are applied. "Not everyone will be farming with robots or vertical farming systems, but there are snippets and the ways of thinking about things that can be used on every farm."
Later this month farmers will also get the chance to learn about new technologies driving efficient and innovative crop production in Scotland at the annual Scottish Agronomy Conference.
Held at Huntingtower Hotel in Perth on Thursday, February 22, the event will see a host of crop science experts talk about developments in the sector, as well as the changes farmers could be making to their systems in future.
Jon Knight, AHDB's head of crop health and protection, will talk to delegates about the future of crop protection chemistry, outlining the costs and challenges of producing new products, the hurdles the sector faces, and the alternatives being developed.
He will share the stage with Bill Thomas, head of cell and molecular sciences at the James Hutton Institute, who will talk about the advances being made in barley breeding and genetics.
Mr Thomas will give an update on the International Barley Hub, which he has been heavily involved with developing, as well as sharing news of his latest government-funded Barley Genetics project, which is focused on developing tools to drive the sustainability of UK barley production.
Bob King, commercial director of Crisp Malting Group in Norfolk, will also talk to delegates about the challenges and opportunities facing the malting barley industry, while Jenna Ross, of Aberdeen University, will talk about her research into bio-pesticides.
Ms Ross, who is about to embark on a Nuffield Scholarship looking at slug control, will share her research in the field so far, as well as her plans to roll out her findings into a biocontrol business for slug pests.
Andrew Gilchrist, managing director of Scottish Agronomy, said uncertainty around Brexit meant that it was vital Scottish producers had the tools they need to prepare for any challenges the sector may face.
He said: "It is not Scottish Agronomy's role to delve into the politics, but to try and ensure that our members are supplied with the most up to date information to ensure crop production is carried out as efficiently as possible.
"It is going to get trickier to produce efficient crops with the impending loss of so many pesticides, so we have to look elsewhere for solutions, and Scottish Agronomy is as well placed as any other organisation to do that.
"We are delighted to have such a strong and varied line-up of speakers for our annual conference."
For more information and to buy tickets, visit www.farmingscotlandconference.co.uk and www.scottishagronomy.co.uk