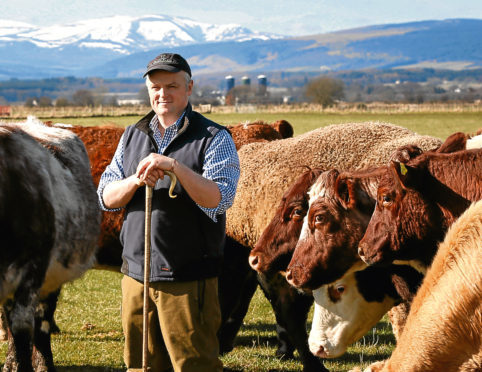 The first dispersal of the Perthshire-based Coldrochie herd of Beef Shorthorns met a strong trade at the Stirling Bull Sales yesterday.
Bidding topped at 20,000gn for stock bull Fearn Godfather, by Dakota Upsall, which was originally bought by Coldrochie owner Douglas McMillan in February 2015 for 10,000gn. He sold back to his breeder – John Scott of Fearn Farm, near Tain.
Next best at 12,000gn was seven-year-old cow Glenisla Desiree, with her August-born heifer calf Coldrochie Desiree at foot. By Holmeere George, she sold in-calf to Knockenjig Foremost to Sandy Anderson, Costock Grange Farm, Leicestershire.
Thereafter 9,000gn was paid for two-and-a-half-year-old cow Coldrochie Grace Beauty with her heifer calf at foot. By Knockenjig Foremost, she sold in-calf to Fearn Godfather to LFP Farms, Grangehill Farm, Luncarty, Perthshire. LFP Farms also paid 8,000gn for seven-year-old Coldrochie Grace Beauty with her heifer calf at foot. By Colnvalley Bogart, she sold in-calf to Godfather.
Another at 8,000gn, also selling to Mr Anderson, was March-2016 born heifer Coldrochie Irania Rainbow, who was in-calf to Lintonpriory Victory. Young bulls sold to 7,000gn for Coldrochie Leif, by Fearn Godfather, selling to Tracy Severn, Brick Green Farm, Halifax.
The averages were: 13 cows and calves, £5,557; four in-calf heifers, £5,880; one maiden heifer, £3,990; four young bulls, £4,384; two stock bulls, £12,180.