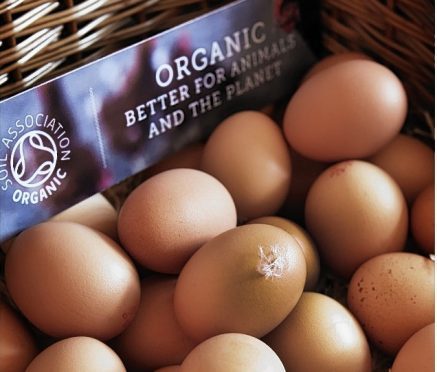 Sales of organic food and drink in Scotland increased by almost 20% last year, according to figures from the Soil Association.
Data from the organic certification body's 2018 Organic Market Report reveals that the UK organic market grew by 6% in 2017 to £2.2billion.
According to the report, organic sales account for 1.5% of the total UK food and drink market.
In Scotland, sales increased by 19.4% last year, accounting for 6.5% of all UK sales.
"Consumer research we carried out last year showed very clearly that people want to see organic become more available, both when shopping and eating out, with half of the people we spoke to saying they would choose a restaurant with organic and sustainable credentials over one without," said Soil Association Scotland's business development manager, Isla McCulloch.
"This reflects a growing understanding of what organic really means – for health and for the environment – and is also influencing shopping habits as people put increasing importance on provenance and trust, values that organic delivers on.
"It's also increasingly seen as the healthy choice, so it ticks a lot of boxes for the customer."
Other data from the market report reveals that supermarket sales of organic increased by 4.2%, while sales of organic food and drink in independent shops rose by 9.7%.
Organic sales through the food-service sector, including sales through the Organic Served Here scheme, increased by 10.2% in the year.
There was also a 9.5% increase in sales of organic food via home delivery, including box schemes, which now account for almost 14% of the organic market.
Reuben Chesters from Glasgow-based Locavore, which runs three small farms, a vegetable box scheme and a farm shop, said: "Our box scheme has grown an awful lot in 2017, actually we've seen the fastest growth to date.
"I think this growth comes from our message: by being organic and local, and a social enterprise we tick quite a few boxes for environmentally conscious shoppers."
The Soil Association's head of farming and land use in Scotland, David Michie, said the future was bright for organic farming in Scotland.
He said support was available for farmers to convert their land to organic through the Scottish Government's Agri-Environment Climate Scheme.
He said: "The AECS scheme has some really attractive payment rates for farmers – and with a five-year contract they provide some income certainty for Scottish farmers in these uncertain times."