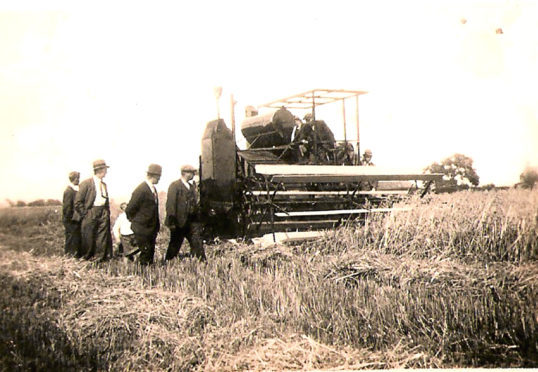 There is little doubt that Massey Harris can claim the glory in the development of the self-propelled combine, with the first machine of its type, the MH No.20, launched in 1938. There is also little doubt that the man behind all of MH combine development was Tom Carroll who died 50 years ago this month.
Despite his connections to a North American concern Carroll was in fact an Australian farmer's son born at Bullengarook in Victoria in 1888. His formal education was frequently interrupted as he stayed at home to help on the farm by operating steam engines at threshing time. He learned blacksmithing from his father and picked up carpentry and bricklaying from tradesmen. He undertook a two- year correspondence course with an American concern to teach him engineering. He also began to repair the neighbour's farm machinery creating a great interest in farm mechanisation. At 16 he took a job with the Buckeye Harvester Company in Melbourne where he was involved with design and manufacture of small harvesting machines. After two years he moved to Mitchell and Co to work on field services and sales dealing with the Australian stripper header type harvesters.
In 1910 he was requested to witness MH's first ever combine at work in Australia and in 1911 he set off for Argentina to witness the combine working there. He then began to work with Moore and Tudor who were Massey Harris distributors in Buenos Aires. Carroll continued with correspondence courses on engineering in his own time to build up his knowledge.
By 1935 he had joined Massey Harris as their chief combine engineer. However prior to this he had submitted his design of trailed combines to Massey Harris who instructed them to go into production. Carroll adopted the rasp bar drum and concave method for threshing as opposed to the spike-toothed drum favoured at the time. His designs were offered as 12' or 15; foot machines with their own engines fitted and were pulled by teams of horses or tractors.
The year he joined MH his new lighter weight combine with a PTO shaft to take power direct from the tractor were marketed as the MH 15 and MH 17 models. In 1937 he submitted plans for self-propelled combines in the shape of the larger 16' No.20 which arrived in 1938. This was a rather ungainly expensive machine and it was the smaller 12' cut MH 21 introduced in 1940 which was the more successful. The arrival of self-propelled combines were a real game changer in the world of grain harvesting. The combine were constructed with light steel with steel panel infills, used vee belts as opposed to heavy chains and used sealed bearings.
Massey, unlike other manufacturers, were able mass produce their No.21 combines and put together a large harvesting team to start harvest in Texas in early summer working northwards to Canada by the end of the year so starting the custom harvest system in the States.
Carroll continued with his design work and after the war went to Germany to help design a small combine for damper European conditions. He was also involved with grain drill, planter, swather, plough and the 701 pick-up baler designs. In 1958 he was awarded the Cyrus Hall McCormick medal from the American Society of Agricultural Engineers.