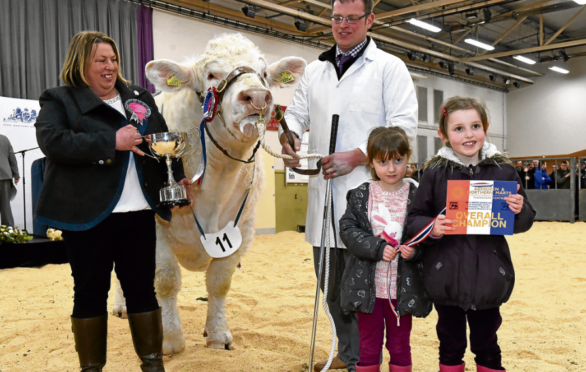 The Royal Northern Spring Show, to be held this year at its usual venue of Thainstone Centre on Wednesday, February 28, continues to go from strength-to-strength with every inch of available trade stand space sold and a waiting list of companies desperate to be accommodated.
Exhibitors may be feeling the pinch as farmers tighten the purse strings in these uncertain times but that makes it even more important for companies to step up their marketing and present their products and services to the public at events like the Spring Show.
Farm machinery companies in particular will be hoping that the slightly improved profitability of farming over the past year, the Scottish Government's loan scheme which has shelled out over £300million to farmers still awaiting their BPS payments and the commitment of the UK Government to continue the present level of support for farming at least until 2025, will give farmers the confidence to invest.
The industry is facing interesting times and we are about to see a revolution in farming over the next few years as new technology kicks in, both in the arable and livestock sectors, with the adoption of precision farming and the application of genomics greatly speeding up genetic improvement in livestock breeding programmes.
All the latest farm machinery will be on display at the show and while the price tags may at times be eye-watering, tooling up properly for the job is important. It might well be worth paying a few thousand more for a higher-capacity machine if it enables crops to be secured timeously in the short window often available for sowing and harvesting and the cost can be spread over more acres by doing a bit of contracting or working for the machinery ring.
Investment has to be made for the right reasons. Gone are the days of making a snap decision to buy when attracted by a new shiny machine on a trade stand. Keeping up with the Jones's and buying something to just keep up with the neighbours is no longer an option for farmers. Investment needs to be justified and carefully thought out.
Farmers must, of course, have the capacity to take full advantage of favourable weather when it comes and failing to secure a crop at harvest time can be a costly alternative. All these conflicting issues have to be weighed up when considering investment in new machinery. This year's show will see the RNAS Machinery Trophy awarded for the best outdoor stand and a new trophy, presented by George Duncan Agri Solutions of Alford, for the best indoor stand.
The highlight of the show for many farmers is the show and sale of exhibition cattle which always attracts an outstanding show of quality beef cattle and attracts show enthusiasts from all over the country, with many of the top cattle being purchased for further showing during the summer.
Aberdeen and Northern Marts' annual spring show and sale of pedigree bulls is now an integral part of the show and this year has attracted 90 entries, comprising 12 Aberdeen-Angus, 27 Charolais, 24 Limousin, 14 Simmental, 12 Salers and one Hereford.
Commercial cattle will be judged by Mark Harryman, Swainsea Barn Farm, Pickering, Yorkshire, and the bulls by North-east of England Charolais and Aberdeen-Angus breeder, Alan Lawson, South Farm, Hallington, Newcastle.
Auctioneer John Angus, recently appointed head of livestock at Aberdeen and Northern Marts, says the show remains one of the best events in the North-east to source top quality livestock.This was confirmed last year when a 10 -month-old Limousin cross heifer from John and Craig Robertson, Newton of Logierait, Pitlochry, sold for a record price of £9,000.
"The livestock sale element of the show is a fast-growing part of the event and we are delighted to be working once again with the RNAS," said Mr Angus. "We will have a strong entry of pedigree bulls forward from noted north-east breeders and top-quality exhibition cattle suitable for further showing on offer. We invite everyone to come to Thainstone Centre for the chance to see and purchase some of the best livestock in the region."
The exhibition classes will again be sponsored by leading trailer manufacturer Stewart Agricultural of Daviot while Grampian Steel of Oldmeldrum will be continuing their sponsorship of the carcase show which will be held at Scotbeef Inverurie's meat processing plant on the day following the show, with the presentation of awards in the evening.
This year the carcase classes have been split in two for continental and Aberdeen-Angus-sired cattle.
A new section for sport and performance horses has been introduced in the horse and pony section, which always attracts a large entry, and is sponsored by Turcan Connell.
RNAS president Robbie Newlands, Cluny, Rafford, Forres, and secretary Alison Argo, who does such an efficient job organising the show, are looking for a large attendance on the day given half-decent weather, although snow and sleet have never stopped farmers coming to the show in previous years.
"We're going to have a terrific show once again and I'm grateful to all exhibitors and my committee, who every year put in so much work to ensure the success of the event," said Mr Newlands.
All the show trophies, including the H C Sleigh Trophy for the most points, presented by the Sleigh family in memory of the late Harry Sleigh, a former president of the RNAS, will take place at the Porterhouse Restaurant at Thainstone on Wednesday, May 9, and will be sponsored by Bruce Stevenson Insurance Brokers.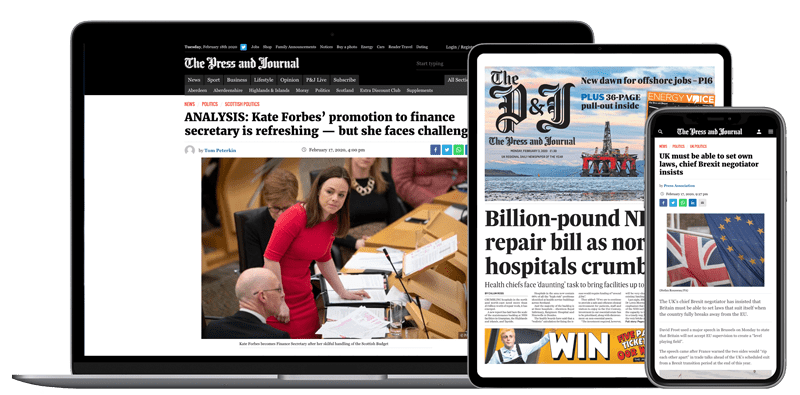 Help support quality local journalism … become a digital subscriber to The Press and Journal
For as little as £5.99 a month you can access all of our content, including Premium articles.
Subscribe