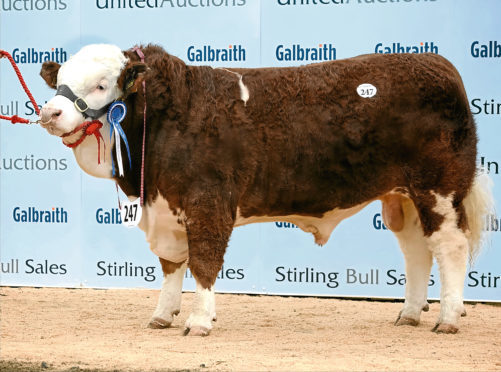 A Moray farming family led the charge in the Simmental sale ring at the Stirling Bull Sales.
The Stronachs, who run the Islavale herd at Berryleys Farm, Grange, Keith, achieved the top price of 24,000gn a day after lifting the supreme championship title in the pre-sale show.
In all, the family sold 12 of their 13 bulls forward to average £8,321.
Their supreme champion – Islavale Hugo, by Islavale Echo – was unsold at 7,500gn.
The sale topper at 24,000gn was the reserve junior champion, Islavale Heston. An AI son of Ranfurly Confederate, he sold to Richard McCulloch for his Overhill House herd at Armadale, West Lothian.
Next best in the sale at 16,000gn was another entry from the Stronachs. Islavale Harvest, which is also an AI son of Ranfurly Confederate, sold to the Robson family for their Kilbride Farm herd in Ballyclare, Northern Ireland.
Thereafter, 12,000gn was paid for the intermediate champion – Camus Harold, by Kilbride Farm Newry, from Northern Irish breeders Harold Stubbs and Alan Burleigh. He sold to Vikki Wood for her Popes herd at Preston.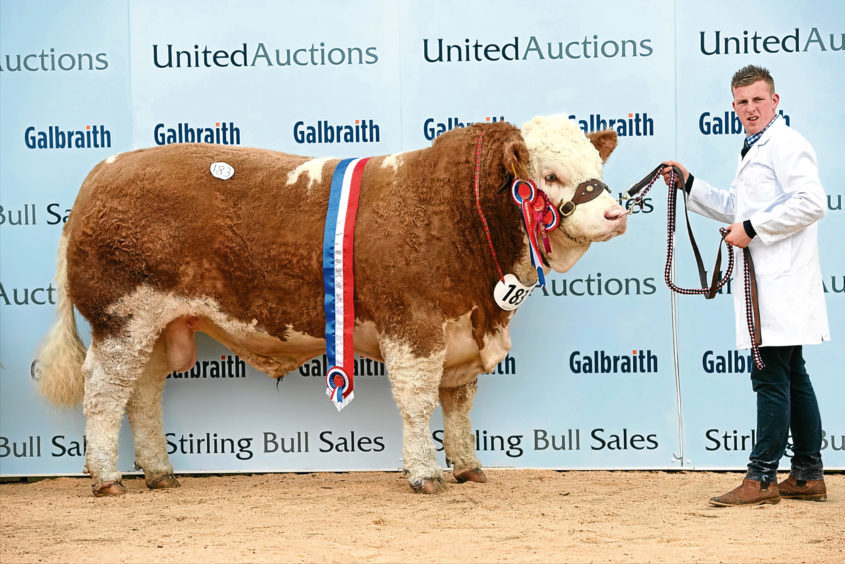 The Green family, who run the Corskie herd at Corskie Farm, Garmouth, Fochabers, then paid 10,000gn for Kilbride Farm Haka, by Kilbride Farm Warrne, from the Robsons.
The pre-sale show judge, Anne MacPherson of Blackford Farm, Croy, Inverness, sold her only entry for 9,000gn. This was Blackford Hurricane, an AI son of Hockenhull Waterloo, which sold to Bridget Borlase, Sacombe Hill Farm, Hertfordshire.
Other leading prices included 8,000gn for Woodhall Hugh, by Curaheen Emanuel, from the late Hector Macaskill. He sold to Delfur Farms, Dunduras Farm, Rothes, Banffshire.
The reserve intermediate champion – Pitmudie Houston from Heather Duff, Pitmudie Farm, Brechin – sold for 7,800gn to the Brown family at Hilton of Culsh, New Deer.
Three lots sold for 7,500gn, the first being Wolfstar Humdinger, by Team Celtic, from the King family at Ormiston, East Lothian. He sold to Colin Inglis for his Greencap herd at Aberdour.
The second lot at 7,500gn was the junior champion – Coskie Harry, by Dirnanean Bradley from the Greens at Corskie. He sold to Newton Farms, Mains of Newton, Craigellachie, Aberlour.
The last at 7,500gn was another lot from the late Hector Macaskill. Woodhall Herbie, by Knockreagh Dandy, sold to Finlay McGowan, Incheoch Farms, Alyth.
Thereafter, two lots achieved 7,200gn. The first was Wolfstar Hendricks, by Team Celtic, from the Kings. The buyer was R. Forrest, Preston, Duns.
The other at 7,200gn, selling to A.R. Mathers and Sons, Wardes, Kintore, was Woodhall Hadrian, an AI son of Woodhall Hadrian, from the late Hector Macaskill. Five lots achieved 7,000gn. These were: Coolcrannel Hero from Kevin Veitch, Lisbellaw, selling to D. Isbister, Oldhall, Stromness, Orkney; Islavale Hero, from the Stronachs, selling to Pitgaveny Farms, Elgin; Denizes Hero from M.A. Barlow, Leyland, selling to Smallburns Farms, Duffus, Elgin; Islavale Hamilton from the Stronachs selling to the Simmers at Backmuir Trading, Keith; and Cairnorrie Hulk from Neil Shand, Cairnorrie, Methlick, Ellon, selling to Macfarlane Farms Ltd, Quixwood Farm, Duns.
British Simmental Cattle Society chief executive Neil Shand said the wet and expensive winter had impacted the sale with buyers' budgets affected by the price of hay, straw and silage.
He said an 82% clearance rate was achieved with 116 bulls selling to average £5,477. This is down £587 on last year when 120 lots exchanged hands.
Meanwhile, in the female sale a top price of 6,800gn was paid for an in-calf heifer from Adrian Ivory's Strathisla herd at Strathisla Farms, Moolies, Meigle, Blairgowrie.
April-2016 born Strathisla Honesty's Twiggy, by Islavale Donald, sold in-calf to the 20,000gn Dirnanean Grafter. The buyer was Harte Peat Ltd, Leonards Island, Clones, Ireland.
The reserve female champion sold for 4,000gn to J.H. Logan and Co. Dalfask Farm, Girvan. This was yearling heifer Newbiemains I'm Brilliant, by Newbiemains Empire, from Jim and Patricia Goldie, Newbie Mains Farm, Annan.