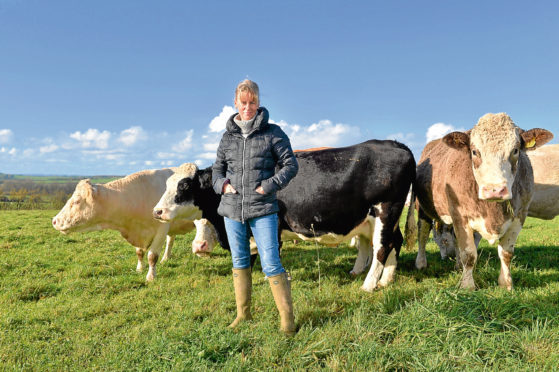 As had been widely predicted, the English NFU elected Wiltshire farmer Minette Batters as the organisation's first female president in its 110-year history.
Promising to "hit the ground running" Ms Batters moves up from her role as deputy president to succeed Welsh farmer Meurig Raymond, who has stepped down from the presidency after four years at the top.
As the president who will lead the organisation's 50,000 members through to the other side of Brexit – a period which has been widely viewed as likely to be one of the most difficult for the industry since World War II – Ms Batters fought her campaign on championing the industry to those outside the farming community and pushing for certainty on Brexit.
"I am delighted to have been elected as president of the NFU and I am grateful to all the members who have given me the opportunity to lead our industry through Brexit and beyond," she said.
A beef, sheep and arable farmer who has also diversified her business into weddings and catering, Ms Batters was also a co-founder of the influential Ladies in Beef group before moving her way up the union hierarchy.
"British farming is in the spotlight like never before and this is a great opportunity to reposition the sector in the eyes of the nation," she said after her election, stating that she looked forward to sharing the organisation's new vision for farming at the earliest opportunity.
Media-savvy Essex farmer Guy Smith, who also stood for the top position, was elected as deputy president to serve with Ms Batters for the next two years, while Hertfordshire arable and livestock farmer Stuart Roberts beat off strong competition for the role of vice-president.
Mr Smith said: "To serve as the deputy to Minette is a great honour. Having worked with Minette for the past four years, I am looking forward to working with her and Stuart as a close team in what will be a pivotal two years for British agriculture."
Mr Roberts added: "I'm extremely proud to join the new officeholder team and I am grateful to members for giving me this opportunity.
"British agriculture is facing both exciting and challenging times, and I am looking forward to offering Minette and Guy my full support for the years ahead."
The move was widely welcomed throughout the industry in the UK and abroad, with Scotland's NFU leaders stating that they looked forward to working with their new English counterparts in the run-up to Brexit.