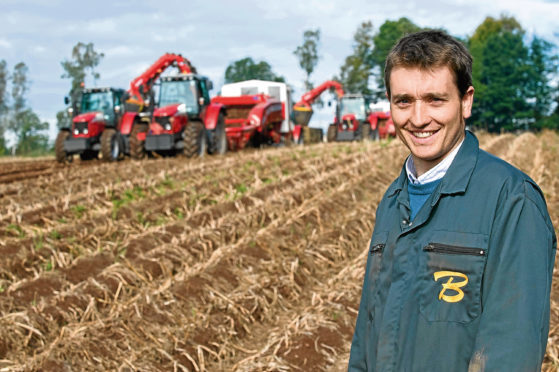 Results from the first year of research at Scotland's national potato research farm will be revealed to growers at a special event next week.
Farm levy body AHDB will unveil findings from trials at Bruce Farms, near Meigle in Perthshire, which hosts its Strategic Potato Farm (SPot Farm) project in Scotland.
Initial trials work at the farm has included work on cultivations, however trials have expanded and they now encompass nutrition, cover crops, seed spacing and handling, as well as further cultivation work.
"We have some really exciting results to discuss at the event now we have harvested the potatoes from each trial and taken them through to pack out," said AHDB Potatoes knowledge exchange manager Claire Hodge.
"The pack out data we get from Bartletts is hugely valuable as it's only by following the potatoes through the full cycle that we can assess the impact the trials have had on marketable yield and demonstrate where making changes can result in a significant difference to the bottom line."
She said the SPot Farms project enabled AHDB to drive research into practice through the demonstration of cutting-edge techniques in a commercial-scale growing environment.
The project at Bruce Farms, which is now entering its second season, runs for three years and is funded by the Scottish Government.
Next week's event takes place at the Red House Hotel in Coupar Angus on Thursday.
It will feature presentations from various people who have been involved in the Bruce Farms trials.
Presentations will include: information on seed handling from Alistair Melrose, who is production manager for William Fraser and Saltire Seed; nutritional information from Mark Stahlam from agronomy research group NIAB CUF; and advice on cover crops from Alan Johnston of Kings.
As well as hearing the results from trials in the past year, farmers will get the chance to hear about, and provide input in to, plans for research work in the 2018 growing season.
Bruce Farms manager for potatoes, Kerr Howatson, said: "We've learned a lot from the last two seasons and we have some outline plans for the coming year, but we're really open to ideas.
"The project has a lot of support and I hope those supporters will take the opportunity to share their thoughts on what we should be doing next."
Next week's meeting, which is free to attend, starts at 10am.