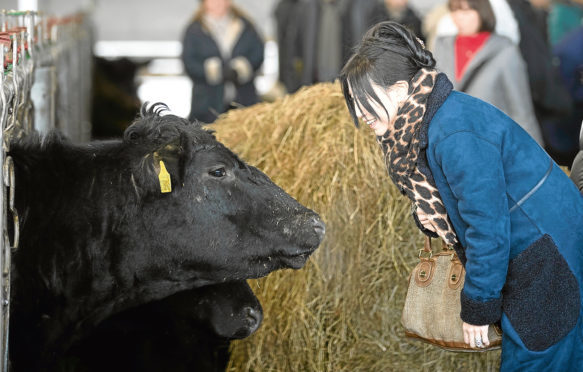 A Perthshire farm played host to a group of Japanese meat buyers as part of a fact-finding mission to find out more about Scotch Beef.
The visit to the McLaren family's Netherton Farm, near Blackford, was organised by red meat levy body Quality Meat Scotland (QMS).
As well as visiting the farm, which rears pedigree Aberdeen-Angus cattle, the group visited the ABP meat processing plant in Perth.
QMS said the visits were organised to help the group gain a better understanding of Scotch Beef production and to learn why it is recognised internationally as a top quality product.
The organisation's director of strategic engagement, Laurent Vernet, said: "The visit from our Japanese guests was a positive step for the industry in establishing new markets out with the EU."
"In Japan beef is very much a premium product and our guests were particularly interested in the levels of traceability guaranteed by our assurance scheme in Scotland."
As part of the visits, the group also enjoyed sampling Scotch Beef at a dinner prepared by executive chef Craig Hart of the Sheraton Grand Hotel in Edinburgh. The main course consisted of a roast rib of pedigree Aberdeen-Angus Scotch Beef.