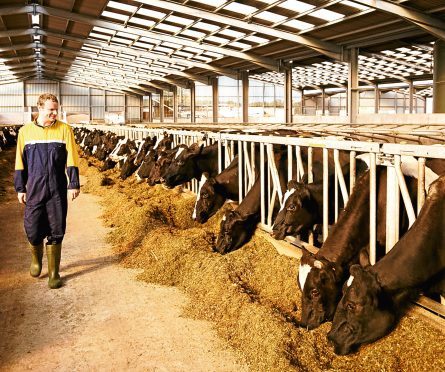 Farm levy body AHDB is on the hunt for two new farmer members for its dairy board.
Former board member Jim Baird, who runs two dairy farms in Lanarkshire with his brother, has called for "positive and passionate Scottish dairy farmers" to put themselves forward for a role.
He said farmers on the AHDB Dairy board would help shape the future of the organisation against a backdrop of Brexit, global price volatility, technological innovation and changing habits of British shoppers.
"I have a huge amount of respect for the people who sit around that [boardroom] table, they are leaders in their fields, but most importantly they are incredibly positive and passionate," said Mr Baird.
"That's what we need to drive the industry forward, positive farmers who are solutions-focused, able to see the bigger picture and understand other people's perspectives."
AHDB Dairy strategy director, Paul Flanagan, said it was important to have a Scottish voice and perspective on the board.
He said: "The Government landscape is obviously different here [Scotland] and while AHDB's purpose of helping farmers, growers and industry to succeed in a rapidly changing world is relevant right across Britain, our approach to working with levy payers and other stakeholders needs to be tailored slightly differently in each region and country."
Any dairy farmers interested in finding out more about a role on the AHDB Dairy board are asked to get in touch with Mr Flanagan on 07990 441758.