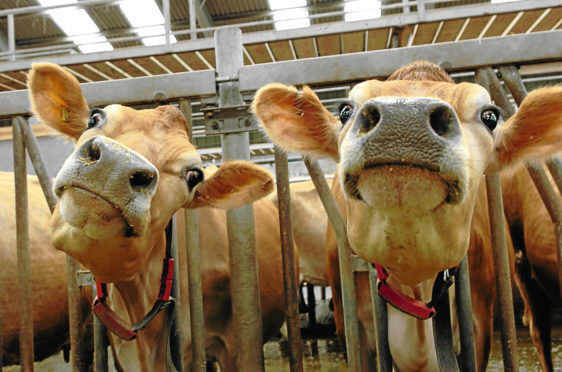 A north-east dairy farming family has launched a Crowdfunder bid to raise money to buy 10 new Jersey cows.
Devenick Dairy, which is based at Bishopston Farm at Banchory-Devenick on the outskirts of Aberdeen, is hoping to raise £15,000 by the middle of next month as part of The Broon Coo Project.
The business, which is run by Richard Groat and his sons Ian and Kenny, has evolved from a traditional dairy farm to one which produces a range of cheeses and meat products to sell from its farm shop and cafe – The Tin Coo – farmers markets and various local shops.
In a plea to get shoppers to pledge their cash to the project, the family calls for help increasing production of its Broon Coo Brie, which is made purely from Jersey cows' milk.
The Crowdfunder page reads: "We currently don't have enough Jersey cows in our herd to meet the demand for it. We only have three ladies in our herd just now, which just isn't enough.
"Your pledge money would help us increase that herd and ramp up production meaning everyone in the north-east could enjoy the Broon Coo, but we need at least 10 more Jerseys to do this ."
Kenny Groat said a range of different options were available for people wanting to donate money.
These include the promise of cheese, cake and coffee in return for your donation and the chance to spend a day milking the cows or a day learning how to make cheese.
Once funds are raised, the Groats will be on the hunt for in-calf, or freshly calved heifers or young cows, to fit with the farm's new spring-calving system.
"We have just moved the farm to spring-calving," said Kenny. "It does not suit the milk market but we are doing processing and our aim this year is to process all of our milk."
He said the family was also looking into the possibility of producing its own bottled milk for sale through its shop and farmers markets.
There are also plans to team up with other food and drink producers in the north-east, including Fierce Beer, to host collaborative cheese and beer nights.
And a special open day – The Turnout Day – will be held in the middle of next month to allow shoppers the chance to see the cows enjoying their first venture into grass fields this year.