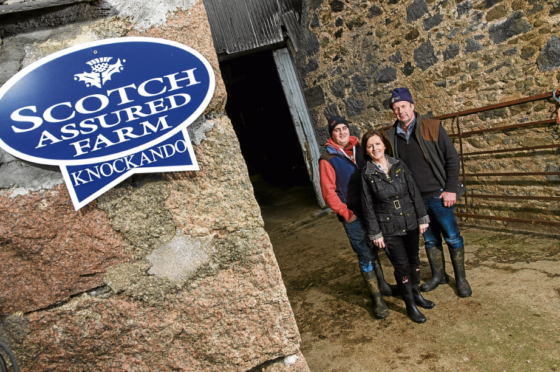 Producing an award-winning, juicy, tasty steak is about as good as it gets in terms of accolades for a beef farmer and last year's winner of the Tesco Best Scotch Steak Competition is keen to repeat his success.
Graham Robertson and wife, Elaine, farm Tillyorn at Lumphanan, near Banchory, in partnership, while son, Gary, 26, also works on the farm. They sell all their beef to McIntosh Donald and entered the competition in 2016, getting to the final 12, so it was an easy decision to enter two cattle again last summer.
The 18-month-old steer out of a home-bred Simmental cross cow by a British Blue sire was typical of the type of cattle the Robertsons put through the Portlethen abattoir every month. Weighing in at 369kg and grading U+4L he ticked the specification boxes to make it through to the final 12 from an initial entry of 180.
The blind taste testing was carried out at the Royal Highland Show in June by a panel which included the chairman of Quality Meat Scotland, Jim McLaren. He said: "The standard of all the entries was consistently high but the winning steak was fabulous."
Graham left the family farm when he was 21 to take on the tenancy of Tillyorn, then he took on the family farm Knockando, when his father retired in 2008, and has since grown the business to just over 320 hectares, 100 of which is owned and the remainder rented. He grows 120 hectares of spring barley, which mostly goes for malting but he retains 150 tonnes for finishing cattle.
The farm supports 120 Simmental cross suckler cows traditionally put to Simmental and Limousin bulls but since 2015 Graham has been using a neighbour's British Blue bull with some success. He said: "I'm keeping the heifers because they are smaller, more modern cattle with good shape, which should produce calves which meet the new weight specifications at the abattoir."
He finishes all the cattle on the farm, either off grass or out of sheds where they are fed straw and home-grown barley mixed with 34% protein cake.
The British Blue cross cattle he finished last year certainly did well, and Graham appreciates the feedback from McIntosh Donald which pays a premium of 5p a kg for cattle under 380kg.
His aim is to finish everything at 18 months and under 420kg but he intentionally has a very spread-out calving from August through to May due to limited housing and also so he can supply beef throughout the year. He said: "I turn the finishing cattle back out to grass for their second summer and they tend to grow on before finishing which can make them too heavy, but I think it is wrong to force finish them."
He has noted the trend for smaller cows and a return to native breeds and he is making his own moves towards the former but he said: "I feel very lucky that Gary has chosen to come and work at home because the fashion for low-maintenance, native-type cattle means there is less work for stockmen on farms and some crucial skills are being lost."
However, a recent trip to Belgium opened his eyes to the other extreme where Belgian Blue cattle are consistently sectioned and calves removed to be reared on dairy milk, and Graham would hate to see anything like that happening here.
His own herd is QMS Farm Assured and he makes good use of CCTV cameras to watch for cows calving but has few problems.
The other enterprise on the farm is a flock of 600 ewes and 60 pure Texels. Texel tups are bred for use on the flock but some are also sold as shearlings. There are 400 Scotch Mule ewes which are put to the Texel tup, ewe lambs are kept for replacements for the 200 strong Texel cross flock which are put to Suffolk tups. All the lambs are finished on grass, kale and turnips and some cake and sold through McIntosh Donald's Cost of Production scheme. Graham said: "With this scheme we know what price we are getting every month and it takes some of the market variations out of selling lambs."
As a supplier of both beef and lamb to McIntosh Donald, Graham appreciates the abattoir's input to his farming business and believes competitions such as the Tesco Best Scotch Steak are important to educate producers about what the consumer wants. He was delighted to win last year and is torn between "retiring at the top" and "going for the double".