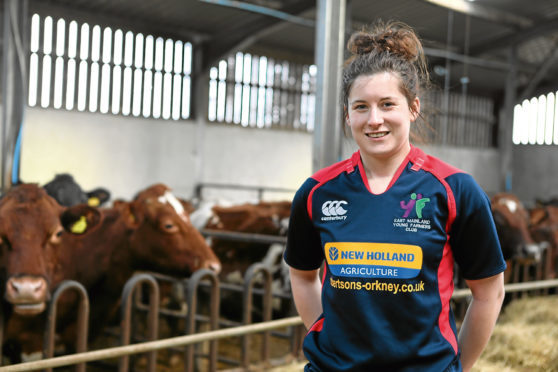 Every month we ask a young farmer for their thoughts on the industry. This time we caught up with Inga Kemp from Orkney
Name: Inga Kemp.
Age: 28.
Club: East Mainland Young Farmers Club.
Where do you stay? Kirkwall, Orkney.
Do you hold or have you held any office-bearer roles at Young Farmers? I am currently assistant secretary at club level, and in the past I have been treasurer and vice-chairwoman. I was Orkney district chairwoman in 2015/16.
Tell us about your background in agriculture: Last August my mum and dad sold our farm in the parish of Deerness to retire and recently moved to Kirkwall. The farm is where I grew up and lived all my life. I loved the country so moving to the town is a huge change of lifestyle. We had a herd of Beef Shorthorn cattle which I have kept a few animals from and will continue to breed with the help of family and friends.
What do you do for an occupation? I am an admin-accounts assistant at Orkney Media Group (The Orcadian).
What sparked your interest in agriculture? Growing up on a farm and with many of my family involved in farming, it was hard to get away from and now I wouldn't have it any other way.
What is the most rewarding thing about working in the farming industry? Bringing new life to the world – when it is going right. The best sight is when the land is dry and the lambs can get out to field and race. Also the variety of jobs – no week is the same.
As rural youth, do you think there is something we should be doing additionally or differently within the agricultural sector? It seems to be hard for young people who are interested in farming to get into the farming sector here in Orkney if you do not inherit a family farm. Money isn't available or they don't have enough farms as they have been bought up by the bigger farms.
Where do you see the farming sector in 10 years' time? With Brexit, who knows – time will tell. We just have to stay positive and keep providing the great quality produce. Hopefully here in Orkney we will have an abattoir open again to be able to continue the Orkney Meat brand.
If you could pass on one piece of advice to someone looking to get into the sector what would it be? Don't give up – keep persevering. Try new things and learn new skills. We need farmers – it is one of Scotland's most important industries.
We can't end the interview without talking about Young Farmers so tell us about your experience – why did you join? I joined the East Mainland club in 2002 for a concert competition. I was only 12 but was not eligible for district events until I was 14. I couldn't wait to be a part of Young Farmers from going along with my mum and dad to concert competitions, open stock judging and rallies. It always looked so much fun and members would always say how much they gained from taking on committee roles and speechmaking which they put to use in later life.
What do you most enjoy about Young Farmers? The people you meet through the years and the lifelong friends you make. Also, working together as a team to run events and pulling together shows like our biennial concert competition. The people you meet mostly have the same interests, there's lots of social opportunities and it's a good way to relax away from the farm.
How do you feel Young Farmers has impacted your life? It has been a massive part of my life. The confidence I have gained has helped me in other organisations I am involved in. I have learned important organisational skills through taking on roles within club and district.
Do you have any advice for someone looking to join? Go for it. You can't get the experiences and opportunities which are on offer from any other organisation. Many aspects of Young Farmers will help you in later life and are good for your CV. You can commit to Young Farmers as much of your life as you wish. There is no pressure and you can take out of it what you can – you won't regret it.