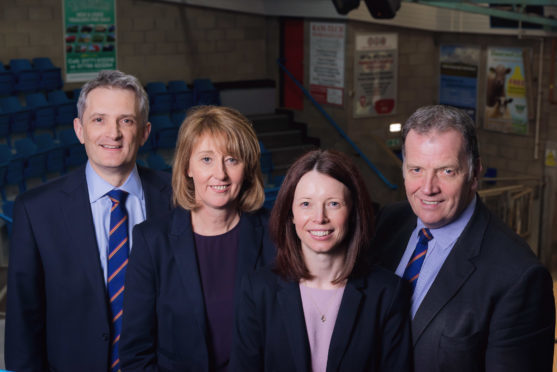 ANM Group has hailed a successful year with members set to receive their share of a £36,000 trading bonus.
Accounts for for the north-east farmers' co-operative reveal a slight reduction in throughput to £124.703million for 2017, from £124.780million the year before.
Pre-tax profits at the group, which is headquartered at the Thainstone Centre near Inverurie, were down to £48,000 from £189,000 previously.
Speaking at a press conference yesterday, chief executive Grant Rogerson said: "Generally speaking, we are very pleased with the last year's results. They echo those of 2016 and are against a backdrop of some fixed cost increases and a challenging year."
He said throughput at the group's main division – Aberdeen and Northern Marts – totalled around 310,000 sheep, which is similar to 2016, and just over 80,000 cattle, which is back 3% on the year before but with average prices up £41 a head.
Mr Rogerson said livestock auctions remained a core part of the business and it was expanding its geographical reach into Angus and Highland Perthshire. He also reported a 10% increase in throughput at the group's base in the north – the Caithness Livestock Centre in Quoybrae.
He hailed a strong performance at Thainstone Events and the Porterhouse Steakhouse and Coffee Bar, which served more than 6,800 steaks and enjoyed 40% growth in covers during the year.
The group's estates division – Aberdeen and Northern (Estates) Limited – sold 40 rural properties extending to just under 4,000 acres in the year.
Mr Rogerson said the group had been hit by a 25% increase in its business rates bill – something it was currently appealing although the last attempt took five years to achieve.
He said the group had successfully reduced the deficit of its defined benefit pension scheme by £1.6million to £5.376million.
Looking forward, Mr Rogerson said the new Scotbeef Inverurie abattoir could be up and running by autumn next year – something he hoped would boost prime cattle sales through Thainstone.
He said contractors were ready to start work on the Thainstone Business Park extension development, once the next stage of planning consent had been secured.