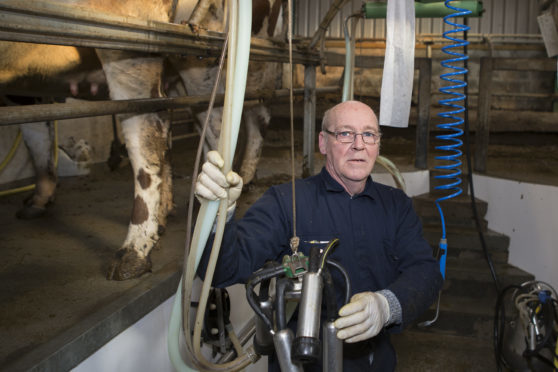 A crofting family has become one of the most northerly dairy farming families in the UK by bringing milk production back to the Western Isles.
Gordon Mackay and his wife, Colleen, and son Scott aim to restore local milk deliveries to islanders who haven't been able to get fresh milk for their cornflakes since the last dairy farm closed in Stornoway in 2012.
They hope that milk from their 60-head herd of Guernsey and Ayrshire cattle at Moorpark Dairy in South Bragar, on the Isle of Lewis, will provide a profitable future for their family, while eventually helping them offer jobs for locals too.
Having spent most of his career working offshore as an engineer, the idea for the dairy came from Gordon, whose mother's family were dairy farmers.
"I was always interested in dairy farming, and after the last dairy was closed on Stornoway I started to think more seriously about the possibility of starting a herd," he says.
"My family has been on the Western Isle of Lewis since 1750 – it's a crofting area and it seemed sensible to start a dairy there."
Having originally been turned down for a crofting grant to help get the project off the ground, Gordon waited until the end of the milk quotas before funding the project himself.
Using his own savings and inheritance, he invested £900,000 in two sheds, slurry storage, a secondhand Manus milking parlour and processing facility.
"There was nothing on the croft when we first started," he says. "Clearing the site alone cost £45,000.
"We started excavating to put in slurry tanks in the winter and it was like a swimming pool – I had to bring in 1,000 tonnes of rock just to make the site workable. It was a terrible time, and I wondered if I had made a mistake."
Getting planning for the development was a huge challenge too, he adds, as the planners had no previous experience of dealing with an application for a dairy unit.
"There were many people who told me I was mad for doing this, especially when we were having so many issues with the planning," he says. "It was horrendous."
Thankfully the family wasn't put off, and four years ago they were finally ready to bring the first young stock Guernsey cattle on to the farm.
Last November, they were joined by a herd of Ayrshire cattle, and the family takes final delivery of 24 more animals this week – taking their numbers to 60.
Gordon says they picked Guernsey cattle for their A2 milk, which contains high levels of beta carotene – a good source of Vitamin A – high butterfat content and high protein levels.
"I wanted to produce something special, which the Guernseys do," he says. "They came from a mountain farm on south Wales, so they are hardened to the weather here.
"The Ayrshires were picked because they give a good quality milk – some people don't like whole milk because it's too creamy, but the Ayrshires take it down.
"They're great cattle. They're laid back and incredibly easy to work with."
The herd is currently housed and fed silage and concentrates twice a day after milking. Once the weather picks up they will be turned out, and eventually milked in the field with a robotic milker.
"We put up two buildings to house the cattle, the dairy and the milk plant, and we're planning another for young stock in the future," says Gordon.
"But I'm also looking at building another smaller building out on the pasture to house a robotic dairy. It means that in the summer we'll be able to milk in the grazing areas instead of bringing them back to the main parlour."
Eventually the family hopes to produce 700 litres a day, giving them enough to supply local shops and businesses – including a hotel and distillery – and to do doorstop deliveries on the island. "Consumers of all ages want milk, and it's not so easy for people to get fresh milk here," Gordon says.
"They have to go to Stornoway, and sometimes it can be sold out before they get there. If the boat can't make it over from the mainland then sometimes we go without – once we went two weeks without any milk."
Having done a leaflet drop of potential customers and spoken to people across the island, Gordon says he's confident there is real interest to buy local milk.
"People were very sad when the last dairy closed in Stornoway. They like fresh milk and they like knowing where it is produced," he adds.
"There's definitely a market there, you just have to find a way to market it yourself. Sales won't come to you."
The family is retailing the milk at £1.18 per litre, selling it in one and two-litre plastic bottles. "Eventually we'd like to switch to glass bottles, and we have looked into having the bottling machine converted," Gordon says.
Despite all of their work to date to get the farm up and running, the Mackay family aren't planning on stopping there.
Having had a hand in processing milk on his family's dairy farm in the Borders, Gordon plans to use his experience to produce gelato, and is even considering producing his own cheese.
"We got a lot of visitors over the Easter holidays as people brought their children to show them the cows, and a lot of them said we should open a cafe or a farm shop, so that's something we're thinking about," he says.
"I'm also looking at putting a cheese plant in too – if that goes ahead it would create up to 10 jobs, which would be brilliant."
Closer to home though, it is creating a secure future on the island for 18-year-old son Scott which makes Gordon most proud. "We always had young stock on the croft and Scott was always interested in farming," he says. "He would have tried to get an apprenticeship, but it's very hard to find anything on the islands.
"I'm pleased because this business has built a future for him here, and a future for the family. I hope it will be here for a long time after I am."