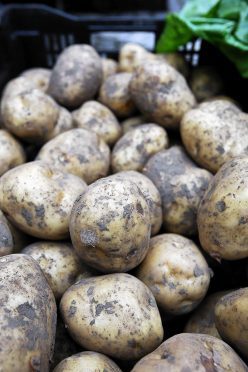 Growers had approximately 1.3million tonnes of tatties in storage at the end of March, according to figures from AHDB Potatoes.
The levy body said the amount of potatoes held by growers at the end of the first quarter was similar to that of March 2015 and approximately 300,000 tonnes more than March last year.
Scottish stocks were 273,000 tonnes, or 21% of the GB total, which is down by just over 50% in two months from 576,000 tonnes at the end of January.
AHDB analyst, Amber Cottingham, said the high level of production this season resulted in stock levels at the end of November 2017, and January and March this year being higher than in the last couple of years.
"This higher level of production has been apparent in the pricing this season, with weekly average free-buy prices significantly down on last season," she added.
She said to date around 4.7million tonnes had been either sold off the field or moved out of grower held stores since harvest – the highest level since the 2011/12 season.
"Reports this season suggest that due to the low prices, growers with lesser quality stocks have been more inclined to dispose of them rather than holding on," added Ms Cottingham.
"As is well documented, the 2017 harvest conditions caused quality concerns for many crops and so a higher percentage of lower quality stocks, compared to previous years, is probable."
Looking to the 2018 season, she said planting had been consistently hindered by wet and cold weather and many early growers were still busy planting.