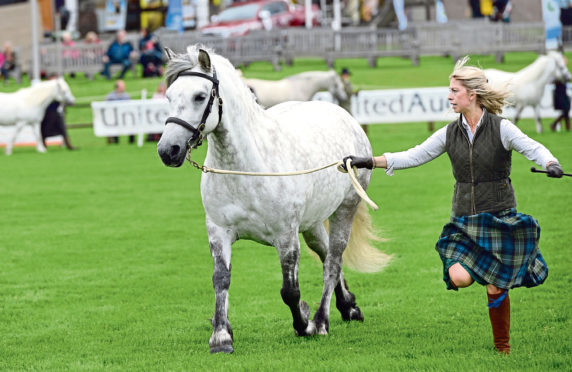 More than 5,000 of the UK's finest livestock will compete for rosettes, silverware and sashes at next month's Royal Highland Show.
The Highland Hall will be at maximum capacity, housing almost 1,100 beef and dairy cattle, with commercial cattle recording their highest number for entries in the last decade, standing at 93 animals, up from 75 last year, an increase of almost 25%.
The Shorthorn breed will dominate the show field with 104 entries, up from 88 entries in 2017, followed by the Simmentals with 103 entries which is a 10-year record for the breed and an increase from 85 in 2017.
Charolais cattle will also be well represented with a jump to 76 from 61 last year.
This year's Queen's Cup will come from the dairy lines and numbers in this section total 109 entries. There will be 38 Ayrshires, up from 29 in 2017, while Holsteins total 29 entries and the Shorthorns class has seen numbers more than double from 12 to 25. In the sheep lines there are 2,029 animals entered – the second largest entry for more than a decade.
Leading the way is the Texel breed with 182 entries and the Beltex is close behind with 177. Elsewhere in the sheep sections, the Suffolks have their highest number in 10 years with 110 entries (90 in 2017); the Ryelands and Rouges also see record numbers with 82 and 39 entries respectively and commercial sheep entries are also seeing increasing interest with 104 entries, up from 85 in 2017.
The North of England Mule class was introduced to the Show in 2011 and has 69 entries this year.
The show organisers say interest in the goat classes is a welcome development.
This year sees a 10-year high of 39 entries and the Boer breed has grown from 16 to 27. Six young goat handlers will also compete for the title. The heavy horse section has attracted 392 entries, with Highland females leading the way with 94, and Shetland females close behind with 84.
Royal Highland Show manager, David Jackson, said the event was growing and attracting new audiences as it widened the appeal for visitors from town and country, but it remained true to its roots.
"We work hard to be truly relevant to all aspects of farming and rural life," he said. "The Grand Parade always proves to be a high point of the show and gives us a chance to celebrate the commitment and dedication of all our cattle and heavy horse exhibitors. I recommend everyone to make time to observe this truly spectacular display."
The 178th Royal Highland Show will take place at the Royal Highland Centre, Ingliston, Edinburgh, on June 21-24.